Opening Day at Dodger Stadium: My Dodgers Experience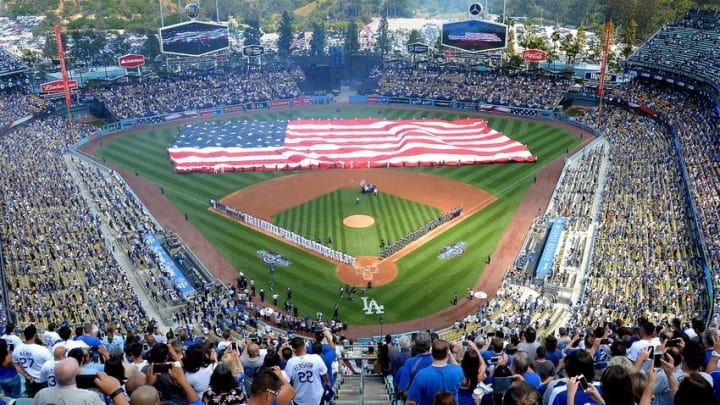 Apr 12, 2016; Los Angeles, CA, USA; General view of the field during the playing of the national anthem before the game between the Los Angeles Dodgers and the Arizona Diamondbacks at Dodger Stadium. Mandatory Credit: Jayne Kamin-Oncea-USA TODAY Sports /
For my first Dodger game, I decided to head on up to Los Angeles for the Dodgers' 2016 home opener.
Being the baseball nut that I am, I have already visited 14 MLB stadiums in my 21 year lifetime. As much as I would love to go into that list, that is not what I am here to discuss. Being accepted onto the Dodgers Way staff has been great, but I felt something was missing. How can you cover a team if you have never been to one of their games? So I made the decision to pack my laptop up and go to Los Angeles for Opening Day at Dodger Stadium.
On Tuesday morning, my plane took off around 8:00 a.m. central time. A quick four hours later we touched down at LAX, and I was already itching to be at Dodger Stadium. Driving to the stadium was pretty different in itself, as I could not believe the traffic at just 11:00 a.m.! The drive was pretty cool like I said I am a sports nut, so it was enjoyable to pass the Staples Center and the L.A. Coliseum.
When I arrived at Dodger Stadium, my first takeaway was the placement. I was confused when I realized you had to drive up to get to the stadium. I was dropped off in center field, so the first thing I saw was the palm trees and the batters eye.
After I had entered the stadium, the first thing I noticed was the fans. Now I understand that Dodger Stadium is the largest stadium in the MLB, but that does not guarantee a packed house game after game. To see a completely packed house means something, it shows the outstanding devotion that Dodger fans have.
My seats were excellent, the third deck right above home plate. The best part of the game for me was by far the pre-game ceremonies. After the entire Dodgers roster and staff had been introduced, a Vin Scully ceremony began. Narrated by legendary fellow broadcaster Al Michaels, we took a stroll down memory lane throughout Scully's storied career with the Dodgers.
First introduced onto the field was former Dodger pitcher Don Newcombe, the starting pitcher in Scully's first ever broadcasted game in 1950. Succeeding Newcombe on the field was many other Los Angeles greats such as Maury Wills, Sandy Koufax, Al Downing, Rick Monday, Steve Garvey, Bill Russell, Ron Cey, Fernando Valenzuela, Orel Hershiser, Tommy Lasorda and Clayton Kershaw.
The first pitch was then signed by every Dodger on the field and passed person to person until finally reaching Scully. Standing next to current owner Magic Johnson, Scully just lets out the biggest smile and gave the crowd a wave. To which Dodger Stadium responded with a full standing ovation to the great broadcaster, even shedding a few tears. Now after that tear-jerker, it was time for Dodger baseball.
Dodgers starter Kenta Maeda went six solid innings, allowing no runs on six hits. Even with the help of some nifty base-running by Yasiel Puig, the Dodgers bullpen imploded allowing four runs in the last three innings. The Dodgers would lose 4-2, but it was an eventful Opening Day nonetheless. I cannot wait to take my second trip back to Los Angeles later this season.