Dodgers DFA Alex Guerrero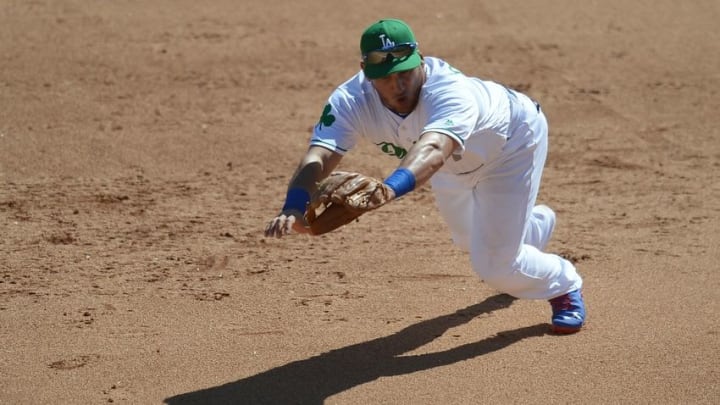 Mar 17, 2016; Phoenix, AZ, USA; Los Angeles Dodgers third baseman Alex Guerrero (7) dives for a ground ball during the fifth inning against the Kansas City Royals at Camelback Ranch. Mandatory Credit: Joe Camporeale-USA TODAY Sports /
After a disappointing Dodger tenure, the Dodgers finally decided to DFA Alex Guerrero.
To say that Alex Guerrero had a tumultuous Dodger career would be putting it lightly. Guerrero signed in 2013 (under Ned, before you guys blame this current FO for it) and while the bat lived up to expectations early on, Guerrero never proved to be playable at any position.
He was a "natural shortstop" in Cuba, but lacked any sort of instincts or range. He got playing time at second, short, third and left field in the minors, but couldn't play any of those positions well enough to justify a major league job. Unfortunately, his four year, $28 million contract included clauses that gave him the right to refuse assignment to the minors after his first season AND the right to opt out of his contract at the end of any year he was traded.
After his first season in the minors, it looked like Guerrero would be a worthwhile investment, as he posted a .333/.373/.621 line in the minors. He was involve in a kerfuffle at AAA, when former teammate Miguel Olivo and Guerrero were involved in an altercation and Olivo reportedly bit part of Guerrero's ear off. You know, normal baseball injuries.
Guerrero had 13 not-notable plate appearances in 2014, but made a name for himself early on in 2015. Guerrero got off to a hot start, as he hit nine homers in April/May, and seemingly all of them came in high pressure situations. His highest moment came in Colorado, when Guerrero hit a game-winning grand slam with two outs in the top of the ninth inning with the Dodgers trailing 8-5.
Many fans were in favor of Guerrero taking over a starting spot despite his shoddy defense because he was destroying the ball. Then, he stopped destroying the ball. In the second half of last season, Guerrero posted a .206/.242/.286 line. Three of his 13 hits in the second half of last season went for extra bases, and he struck out 18 times. His bat wasn't the only one to go cold, but unlike other Dodgers, Guerrero's defense was nowhere near good enough to justify keeping him on the field. Guerrero was left off the playoff roster and hasn't played in the majors this year, as he suffered a knee injury in the Spring.
Guerrero's decision day was today, as he had been on rehab assignments in various minor leagues for 20 days, which is the maximum. In 68 plate appearances in the minors this year, Guerrero had nine hits and 14 strikeouts.
If Guerrero can recapture his bat from the beginning of last season, he would be an upgrade for a handful of teams' in the AL, who can hide his glove behind the DH role. The Dodgers can't afford to keep an inconsistent bat/no glove player on their bench, and his trade value was as low as imaginable and they couldn't send him down to the minors. DFAing Guerrero was really the only option.
The Dodgers will still have to pay Guerrero his contract unless another team claims him on waivers. If that happens (it won't), the other team will be on the hook for his salary. By being DFA'd, Guerrero is taken off the 40-man roster.
Next: Dodgers Cubs Game Two Preview
Lots of other Dodger news happening. Probably warrants other posts, but Alex Wood is heading to the DL with a left elbow injury (non-structural, which is best case). Julio Urias will likely be recalled, and if he takes Wood's spot he is lined up to make his Dodger Stadium debut Saturday against Atlanta. However, Kenta Maeda's next start is also in question as he was reportedly dealing with swelling in his hand after taking a comebacker off it in New York. He's scheduled to throw Thursday.