Dodgers 10 Diamondbacks 2: Welcome Back, Zack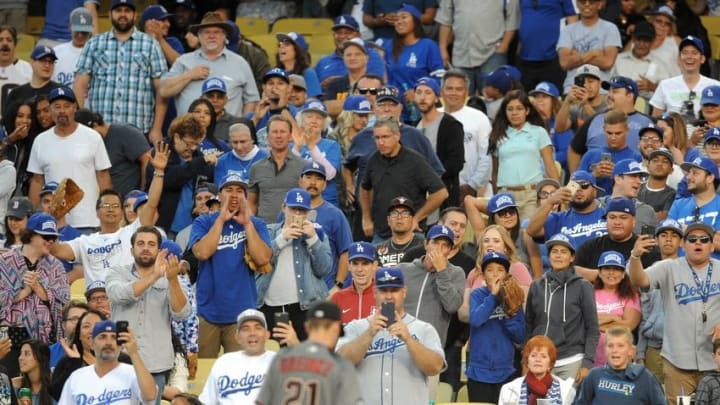 September 5, 2016; Los Angeles, CA, USA; Los Angeles Dodgers fans watch as Arizona Diamondbacks center starting pitcher Zack Greinke (21) walks to the dugout after being relieved in the fifth inning at Dodger Stadium. Mandatory Credit: Gary A. Vasquez-USA TODAY Sport /
The Dodgers broke out their bats in game one, belting five homers against an old friend.
The Dodgers did not struggle to score in game one against Arizona. Five homers powered the Dodgers to a commanding 10-2 win and put them up four in the West.
Dodgers Starter
Kenta Maeda allowed a lead off single to Jean Segura after falling behind in the count. It looked like he was going to struggle a bit, but I don't know anything and he went on to retire the next 18 batters.
Maeda had every pitch working early on. He got through five innings in only 74 pitches, and Segura was the only baserunner.
Maeda legged out an infield single in the fifth and looked a little limpy after it. He advanced to second and went on to score, but he was healthy enough to stay in.
After tossing perfect sixth and seventh innings, Maeda finally gave up another hit in the seventh. Chris Owings led off with a clean single to right. After getting a flyout, Maeda walked Paul Goldschmidt and allowed an RBI single to Jake Lamb. This ended his night on a bit of a low point, but it was still a phenomenal outing.
Maeda went 6.1 innings and allowed three hits, one walk and one run. He struck out eight and made 102 pitches. With such a big lead, it probably would have been smart to get him out after six, but he still turned in a huge performance. If that's what the Dodgers will get out of their third starter, they're in pretty good shape.
Dodgers Offense
The Dodgers seemed to have a tough go of it early on. Corey Seager singled in the first inning, but six of the first nine outs came on Zack Greinke strikeouts. Greinke and Maeda were going pitch-for-pitch until the fourth inning.
The fourth started with a line drive double by Seager. Greinke loved Seager when he was a Dodger, and for very good reason. Seager good.
After Greinke got Justin Turner to ground out, Adrian Gonzalez somehow hit a letter-high fastball into the right field bleachers. I honestly didn't know Gonzo could still get up there for those pitches, but his 17th homer of the season gave the Dodgers a 2-0 lead.
Greinke's night got completely out of hand in the fifth. After getting Howie Kendrick to ground out, Greinke left a changeup a bit too high and Joc Pederson hit it out to dead center. Maeda reached on an infield single and Chase Utley poked a single to left. Seager had a phenomenal at bat, working back from an 0-2 count to get a full count. Greinke missed his location, and Seager drilled the payoff pitch out to make it 6-0. Justin Turner made it 7-0 with a back-to-back homer. Gonzalez grounded out, but Yasmani Grandal hit a line drive out to right a couple pitches after just missing a homer foul.
Greinke did not have a homecoming to remember. He allowed eight runs, nine hits and five homers in 4.2 innings. He did strike out six and didn't walk a batter, but the Dodgers absolutely smoked Greinke. Last year, Greinke did not give up five homers in any month. He gave up nine runs or more in only two months (10 in August, nine in Sept/Oct).
The Dodgers added on in the ninth, which started with a Josh Reddick double off the wall. After a walk and a swinging bunt, Reddick scored on a wild pitch to make it 9-2. Utley singled in another run to make it 10-2.
Howie Kendrick was the only starter without a hit, but he walked twice. Seager finished a triple shy of the cycle.
Dodgers Bullpen
Louis Coleman inherited a two on, one out situation. He got a foul out and a fly out to right to close the book on Maeda.
Jesse Chavez got the eighth. Chavez walked the leadoff hitter and got a forceout. After a flyout, Chris Owings smacked a run-scoring double to left-center. Chavez got out of the inning without any more damage
Josh Ravin got the ninth. His outing wasn't important with a 10-2 lead, but Chavez being relieved by Ravin at Chavez Ravine is too perfect. Ravin walked a batter, but otherwise closed out the game.
Other Stuff
The Giants had two hits at Coors Field today. What kind of contender doesn't hit at THAT stadium??
ANYWAYS, the Dodgers are now four up in the West. The magic number is down to 22.
The Dodgers and Diamondbacks square off again tomorrow. Shelby Miller starts for Arizona, Ross Stripling goes for the Dodgers.