Dodgers 8 Yankees 2: JDL Remains Undefeated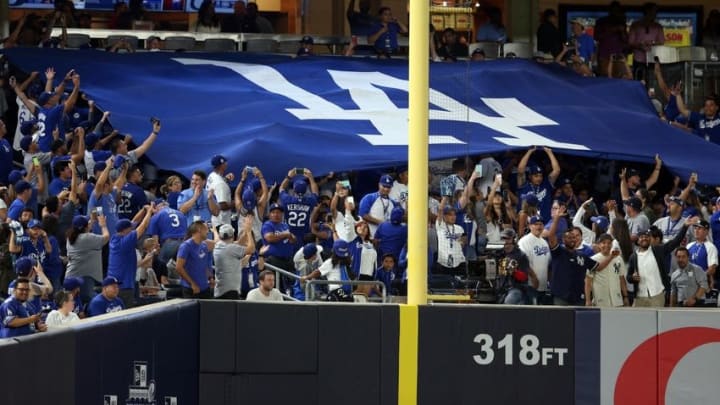 Sep 12, 2016; Bronx, NY, USA; Los Angeles Dodgers fans raise a banner behind the left field foul pole during the third inning against the New York Yankees at Yankee Stadium. Mandatory Credit: Brad Penner-USA TODAY Sports /
The Dodgers took game one in New York, as they got another solid outing from a rookie starter.
The Dodgers gave their starter some run support, and it stuck. They won 8-2 and picked up their 81st win of the season.
Dodgers Starter
Jose De Leon made his first career road start. The eye test wasn't super great, as he was clearly fighting it and didn't look nearly as sharp as he did in his first start. The results were pretty great though.
After a quick 1-2-3 first inning, De Leon gave up a rocket to Starlin Castro for the Yankees' first run. The Yankees got another run in the fifth with a moonshot by Aaron Judge. However, the two solo homers were two of the three hits JDL allowed.
He wasn't exactly forcing soft contact, but he made it work. De Leon is a high strikeout, low walk pitcher that is prone to giving up the longball. He gave up the longballs, but only struck out three Yankees. He also walked two and hit a batter, so his usual pinpoint control wasn't there. He couldn't locate his fastball and left some offspeed pitches up, but he still had success. Every pitcher has off days, and the great pitchers are the ones that still get results despite not having their best stuff. Today, De Leon showed he's capable of that.
De Leon was pulled after five innings. He allowed the two runs and three hits and threw 83 pitches, only 47 of which were strikes. He looked better in his first start, but his results today were much better.
Dodgers Offense
Perhaps the reason for De Leon's success was that he got an early lead from the offense. They scored a run in the first after a pair of singles. Adrian Gonzalez beat out a double play (seriously) to bring in the first run.
The wheels fell off for Bryan Mitchell in the second and third innings, though it wasn't entirely his fault. He got two outs in the second, but mixed a pair of singles in there as well. Chase Utley hit a ball to the right-center gap, and Judge and Jacoby Ellsbury nearly collided. Judge let up a bit and the ball hit off his glove to plate both runners and put the Dodgers up 3-1. Corey Seager followed that up with a single to make it 4-1.
Yasmani Grandal singled and Josh Reddick doubled with one out in the third. Howie Kendrick came up and hit a swinging bunt and beat the throw to make it 5-1. Mitchell was pulled for Chasen Shreve. Kendrick stole second, and Gary Sanchez's throw ended up in center field to allow Reddick to score for a 6-1 lead.
If you must complain about something, the offense disappeared for most of the rest of the game. The Yankee bullpen cruised until the eighth, allowing only one baserunner (a walk) in innings 4-8. In the eighth, Yasiel Puig pinch hit and homered over the short porch in right to make it 7-2.
Kendrick has eight homers and Enrique Hernandez has six, so there's an outside chance of this record going down.
Justin Turner copied Puig with a short porch homer to right. Interestingly enough, all the homers in today's game were hit by righties. The two Dodger dingers went oppo, while the two Yankee homers were pulled.
Dodgers Bullpen
Pedro Baez was first out of the pen.
I was watching the game, and the TV broadcast didn't mention this. If this is true it immediately becomes a top-5 moment of my life.
Baez threw a perfect sixth inning and didn't take forever in doing so. He remained in for the seventh and struck out the first two batters, but old friend Ronald Torreyes singled to chase him from the game. A solid day of work for Baez, who gave the Dodgers some important length. Even with like 74 relievers on the roster right now, the bullpen is going to be taxed. Julio Urias starts tomorrow and Clayton Kershaw the following day, and neither of them are locks to throw more than five innings. Getting five outs from one arm was big today.
Grant Dayton relieved Baez and struck out Brett Gardner to end the seventh. He got a flyout in the eighth and was relieved for Joe Blanton. That's 10 straight scoreless outings from Dayton, who could be the future LOOGY.
Blanton allowed a double to Castro, but struck out two to end the eighth. Josh Fields took the ninth
Other Stuff
The Dodgers are guaranteed to finish at least .500 this year. They move to 3.5 up in the division with the Giants opening a series against the Padres tonight (Jeff Samardzija vs Paul Clemens). The lead could be four by the end of the night, and the magic number could be down to 16.
Shoutout to Pantone 294.
4:10 start tomorrow, with a pair of lefties getting the start. Urias for the Dodgers, C.C. Sabathia for the Yankees.