How the Dodgers Will Make it Back to the World Series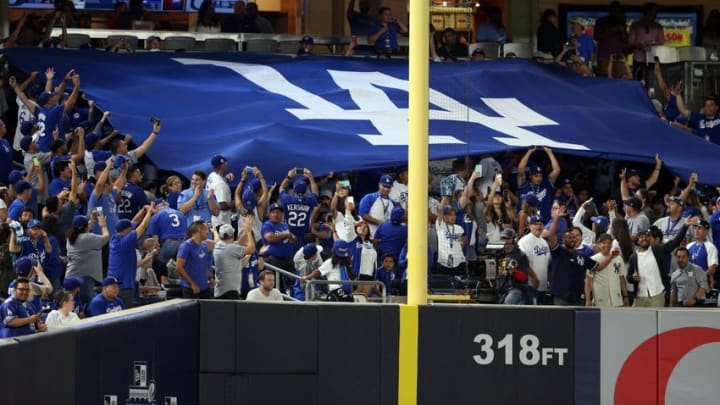 Sep 12, 2016; Bronx, NY, USA; Los Angeles Dodgers fans raise a banner behind the left field foul pole during the third inning against the New York Yankees at Yankee Stadium. Mandatory Credit: Brad Penner-USA TODAY Sports /
The Los Angeles Dodgers have the answers to go all the way this year, the rest is up to them. 
Yesterday manager of the Dodgers, Dave Roberts, came out with his playoff roster for the NLDS against the Washington Nationals. Names like Clayton Kershaw,  Yasmaini Grandal, Chase Utley,  Adrian Gonzalez and  Corey Seager were on there of course, but there are some sneaky clutch players on the roster. Players like Charlie Culberson who hit a walk off home run to win the division is on the roster along with Andre Ethier who isn't gonna be a starter, he will be a great bench presence.
The Dodgers have a great starting rotation for the NLDS starting off is Kershaw pitching game one, Rich Hill pitching game two and  Kenta Maeda pitching game three at home. Everyone looks at Kershaw's bad playoff reputation, but if you look at last years NLDS game four when they were down 2-1 in Citi Field, Kershaw allowed one earned run through seven innings pitched and picking up the victory. In the six games started by Hill, he has only allowed seven earned runs! Also he had a perfect game through seven against the Marlins, but was yanked because they didn't want him getting hurt. Maeda has been great posting a 16-11 record and a 3.48 ERA.
There has been speculation about what the Dodgers will do if a game four is necessary. If a game four is necessary and the club is up 2-1 they will most likely have Julio Urias pitcher, but if they are down 1-2 it all depends who pitched better in their game Hill or Kershaw.
The Dodger bats have been heating up as of late except for when they face left handed pitchers, but the Nats only left hander is Gio Gonzalez. The Dodgers have four hitter with 25+ home runs and five hitters with a .275+ batting average. People like Corey Seager, Yasiel Puig and Howie Kendrick are always a threat to steal.
Next: Dodgers Postseason Roster Clears Up
Their bullpen has been arguably the best in all of baseball with one of the best closers in Dodgers history. This year Kenley Jansen has 47 saves, Joe Blanton and Pedro Baez have 51 combined holds. In 2016, Jansen has only allowed one Nationals player on base. Also the last time Kershaw faced Washington he went seven innings, gave up six hits and one run while striking out eight batters picking up the win.