Dodgers Sign LHP Rich Hill To Three-Year Deal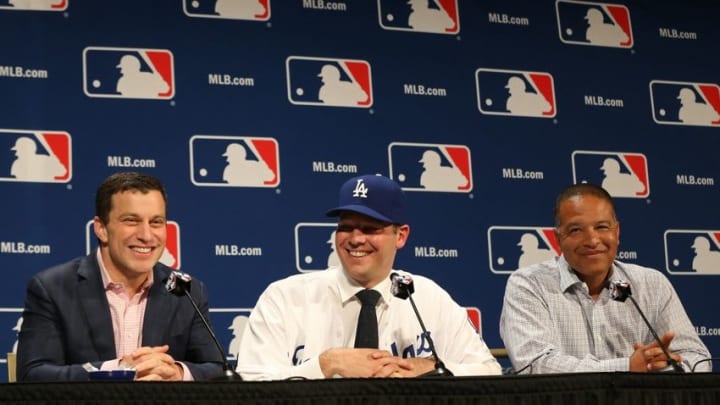 Dec 5, 2016; National Harbor, MD, USA; (L-R) Los Angeles Dodgers president Andrew Friedman, Dodgers pitcher Rich Hill, and Dodgers manager Dave Rogers smile at a press conference announcing Hill /
The Dodgers announced they signed left-handed pitcher Rich Hill to a three-year $48M contract.
Peter Gammons reported news of the deal. However, neither the team nor Hill wanted to confirm a deal was in the works.
Hill posted a 12-5 record with a 2.12 ERA in 20 starts. Many teams considered Hill the top free-agent starter on the market up until the Dodgers inked his contract. They also reportedly expressed plenty of interest in him.
The Dodgers acquired Hill via trade from the Oakland A's at the trade deadline on August 1. Now that he has been resigned, Hill is projected to be the Dodgers' No.2 starter behind ace Clayton Kershaw. Hill won three out of six regular season starts with the Dodgers and posted a 1.83 ERA. He was a vital part of their success after losing Kershaw to injury. Hill's ERA rose to 3.46 in the postseason, but he still collected a solid win in game three of the NLCS against the Chicago Cubs.
Must Read: Rich Hill Signing Rumors
A blister on Hill's middle finger sidelined him for several starts. However, upon his return, he didn't allow a run in his first three starts. He also pitched a perfect game through 7 innings on the road against the Miami Marlins before being pulled due to his blistering finger. Considering his production, the Dodgers were smart to lock Hill up for the next three years. Opposing batters hit just .193 against him in 2016, the 2nd lowest average against any MLB pitcher with 100+ innings pitched. The only pitcher better was Clayton Kershaw.
Next: New CBA Could Hurt Dodgers
Hill earned just about $9m in his career at age 36 and is now set to make over five times that from ages 37-39. To say the least, it was an emotional day for Hill who just a year and a half ago signed with the Long Island Ducks for $500 per week. In a press conference broadcast on Facebook Live, Hill and the Dodgers discussed the lefty's new three-year contract.