Dodgers: Alanna Rizzo's importance to the team and women in sports
Alanna Rizzo has a tough job being a woman in the sports world, but she is an important woman in sports and a huge part of the Dodgers' organization.
Alanna is a Colorado native and a proud one, to say the least. Before coming to the Dodgers, she earned her undergraduate degree in international business but quickly decided it wasn't for her. She returned to The University of Colorado at Boulder to get her M.A. in broadcast journalism. At first, she started out doing small stints for CBS stations until she became a sports reporter for Roots Sports Rocky Mountain.
In early 2012 she worked for MLB Network on shows like "Intentional Talk" and "Quick Pitch" and quickly became a fan favorite. She was knowledgeable, witty, and always knew what the fans wanted to see and hear.
Her career began with the Dodgers in January of 2014, and since then she has continued to show why she is such an incredible reporter.
In her career, she has won five Emmys for her work. In December of 2015, she won the Latina Leadership Award from H.O.P.E. (Hispanas Organized for Political Equality). This award is presented to Latina women in California who demonstrate leadership in their respective fields.
Even with all of Alanna's success, she still has to deal with the adversity of being a woman in the sports world. She is constantly harassed on Twitter and Instagram by people just because of her looks alone. Of course, she never allows this to get to her or stop her from doing what she loves.
She will quickly block the harassers and get back to replying to her fans in the comments. Unfortunately, this seems to be a trend most women in sports have to deal with. Luckily, Alanna, being the strong woman she is, brushes it off and gets back to work.
In an article written by Dusty Saunders, Alanna is quoted saying,
"I'm aware that looks are important for a woman on sports television." "And there have been too many women who have gained initial TV popularity by smiling and dressing somewhat provocatively." "Talented women personalities fight that 'eye candy' label charge all the time."
She is aware of her natural beauty, but she does not rely on it to gain her popularity. Her intelligence and passion for baseball speak for itself. Alanna is a female role model for many young women, especially those that are more timid to join the sports industry because it is seen as a "man's job."
A misconception that is continuously brought up to Alanna is her relationship to Cubs' All-Star Anthony Rizzo because of their same last name. Anytime she gets asked this question she laughs and lets people know they have no relation what so ever. However, she does embrace the fun side of it and likes to mess with her fans now and then.
More than anything, Alanna does a great job interacting with the fans. She is constantly doing giveaways on Twitter, whether it be stadium giveaways, tickets to games, or even just cool little things from games she has from time to time.
She answers a lot of questions directed to her, and she has no problem telling you how it is. The way she handles herself with players, coaches, and fans is what makes her so great. I mean how many sports reporters stay where they are even when they see the Powerade jug getting dumped in their direction?
She's also one of the first people in the clubhouse with her ski goggles on when it's time to celebrate.To say the Dodgers are lucky to have Alanna as a part of their team is an understatement. For most of us fans, she is just as valuable as any player who steps out onto the field.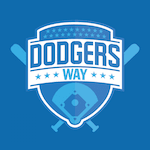 When she's sick, we all miss her. When she's all bundled up at games freezing, we all appreciate her dedication to what she does for the fans. Alanna has become a staple in the Dodgers' organization, and I hope it stays that way for a long time.