Dodgers Stadium: Los Angeles' best weapon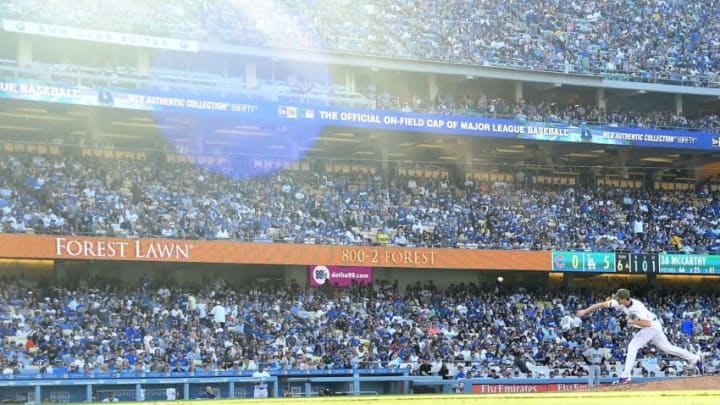 LOS ANGELES, CA - MAY 27: Brandon McCarthy /
Dodger Stadium has been blue heaven on earth for the Dodgers as they have a 34-11 record at home and are on pace to finish with a 62-20 record.
They currently own the Major League's best home record and will be looking to improve that record on this home stand. The Dodgers have been one of baseball's best teams this season, we all know this. But, when they play at Chavez Ravine, they are arguably the best team in baseball.
The team was recently on a 10-game winning streak, which was snapped by the Angels, in a 4-0 loss, last Monday. Before that loss, the team had been having one of it's best homesteads in 55 years.
True Blue LA did a deep dive into the team's success since Dodger Stadium opened and found that June 19th to June 27th was the best Dodgers homestand in 24 years. With an 8-1 record over the homestand, the Dodgers were able to show how dangerous a team they can in the confines of Chavez Ravine.
Statistically speaking, the Dodgers have been a much better team at home than at any other stadium. At home, they have hit 70 home runs compared to 49 on the road. They also have more hits, with 378 versus 348 on the road. And, if were looking the teams splits, they are batting .262/.348/ .474 at Dodger Stadium, and are hitting .252/.337/.419 away from Dodger Stadium.
It has not only been their hitting that has been better at home, but also, their pitching.
At home, the team owns a 1.05 WHIP and 2.81 ERA. On the road, the team's WHIP goes up to 1.24, and their team ERA goes up to 3.69. Obviously, the team's pitching should be better at Dodger Stadium as it has traditionally been known as a pitcher's park. While the team has still found success away from home, they certainly see better results when they are back at "The Ravine."
More from Dodgers Way
Now, why is it a big deal that the team has a better record at home? I can answer that for you in one word, October.
It is well known that you want to own home-field advantage going into the playoffs and the Dodgers are one pace to do so. If the team can open up their playoff series in LA, it would be a huge boost and advantage for them.
I have shown you the stats that the Dodgers have had this season at home and on the road, and it is evident where the play better baseball. But, what may be the Dodgers best weapon at home is you, the fan.
Despite what Kenley Jansen has to say about Dodgers fans, they are important to the team's success, especially during the playoffs. Playoff baseball is an amazing thing and seeing how engaged the fans are even more amazing.
The roar of a crowd can do so much for a team, just ask Johnny Cueto how much it matters. The crowd can rally a team when they are down, just ask David Ortiz after his grand slam against the Tigers. Once October baseball comes around, the fans become a very important part of the game.
The Dodgers can make a move for an ace pitcher or an explosive bat, but sometimes it comes down to the things more than just the talent on the field. An energetic crowd can go a long way in baseball, and it can go an even longer way when the fans haven't experienced a World Series in 29 years.
As my colleague, Cesar Becerra wrote a few weeks back, the Dodgers have that special magic, and this team just has that feeling. I haven't been more confident in a team since 2013, which was one Hanley Ramirez broken rib away from a World Series berth. If the Dodgers can lock up home field advantage, they have a shot to win, and they are on pace to do so.
If you haven't already, take a trip out to Dodger Stadium, you have a good chance at seeing a Dodgers win. You also have an opportunity to see one of the best home teams that Los Angeles has seen in its history.