Dodgers: What Would a World Series Mean to Los Angeles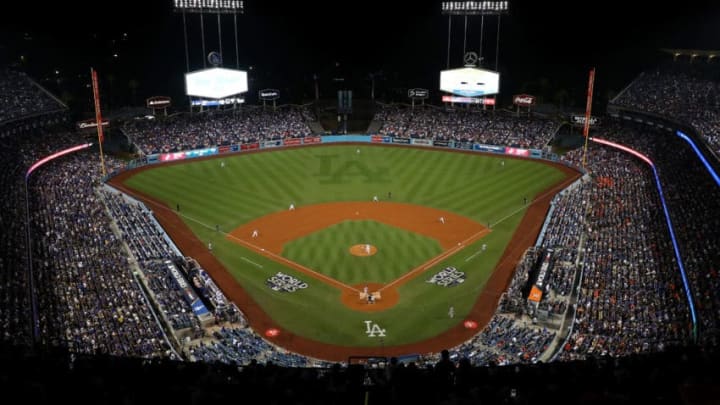 LOS ANGELES, CA - OCTOBER 31: A general view during the fourth inning of game six of the 2017 World Series between the Houston Astros and the Los Angeles Dodgers at Dodger Stadium on October 31, 2017 in Los Angeles, California. (Photo by Joe Scarnici/Getty Images) /
I've never seen the city like this. So engulfed in Dodger baseball, it almost seems like nothing else matters. Going to Game 6 last night was a dream, I didn't want it to end. But what I can take away from that night and from this whole playoff run is that this city loves the Dodgers more than just about anything else. Sorry, avocado toast.
I've grown up and lived in Los Angeles over the last 25 years and have been fortunate enough to be around for five Lakers' championships, two Kings' Stanley Cups, historical USC football, three Sparks' championships and countless classic games.
I've discussed this with friends, co-workers, random people standing next to me in their favorite Angeleno sports gear and the conclusion has nearly always been the same: A Dodgers' World Series title would mean more to this city than anything else.
Angelenos are selfish when it comes to sports; they want it all. But I don't see a problem with that. The players who thrive here understand that and want the same thing. If you were like me and grew up watching Kobe, he would do just about anything to bring this city a ring. When did you hear of a Dodger doing something like this? 
More from Dodgers Way
I'd never felt that same sense of urgency from a Dodger team until this year. It's no surprise they are playing for a title tonight. This team wants it as bad as this city does.
If you haven't been fortunate enough to make it to a game or be around the atmosphere of Los Angeles, it's like nothing I've ever felt before. It can be overwhelming here like a million things are going on at once (because there are) and not one person is focused on anything besides their own day and the multitude of tasks.
The last two weeks, it's like a blue wave has washed over the city. Flags, posters, hats, shirts, you can't go anywhere without seeing Dodger blue. It's like a baseball fan's dream; everyone is enamored with the sport. You can just walk down the street, yell "Go Dodgers" and you're unanimously met with applause.
As a self-proclaimed selfish fan, I can say I don't want this week to end. I wish this series would go on forever. But that's not a reality; it's going to be decided tonight. It will be the first time in Dodgers history that they get to host Game 7 of the World Series. There are lots of crazy facts about tonight. The game will probably be crazier. 
As I said, I was lucky enough to be at Game 6, and the place was the loudest I'd heard it in my whole life. People stood the entire game, fans ran up and down the aisles high-fiving when they scored, it was madness. I can't imagine what tonight will hold, but I know the city is ready for it. It has been since the first pitch of 1989.
I won't say that win or lose; I'll be happy, I won't. I want them to win just about more than anything. The players feel the same way. We will always appreciate this series for what it's been, one of the greatest of all time, but it will never be as sweet without the Game 7 win to cap it off.
Next: Potential World Series MVP Candidates
The Dodgers play for the World Series tonight, I'll never get over being able to write or say that. There isn't a doubt in my mind they'll finish what they started so many months ago, and it will be a night that goes down history. Is it selfish to ask for the Hollywood ending? Not. Go Dodgers.