Dodgers: Why LA is Still the Favorite to Trade for Stanton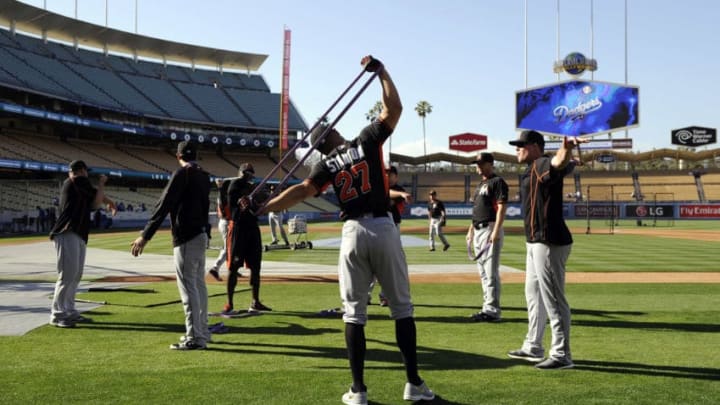 LOS ANGELES CA - APRIL 27: Giancarlo Stanton /
LOS ANGELES CA – APRIL 27: Giancarlo Stanton /
It's no surprise the Miami Marlins have yet to find a suiter in the Giancarlo Stanton sweepstakes. The Dodgers have been the primary destination of choice for Stanton, yet the front office hasn't made that their focal point of this offseason. Well, things are heating up as we're two days away from the MLB Winter Meetings.
Even though the Marlins gave Stanton an ultimatum this week, Stanton has stuck to his guns (pun intended). The Marlins threatened to trade away key players if Stanton didn't agree to a trade with either the Cardinals or the Giants. Stanton holds all the leverage here with his full no-trade clause, and he just doesn't want to play for St. Louis of San Francisco. His top choice has always been the Dodgers. Up until last night.
Stanton told the Marlins that he's now willing to accept a trade to three more teams. Coincidentally, they were the last four teams standing in the MLB postseason last year (Yankees, Cubs, Dodgers, Astros). Clearly, this shakes up the entire MLB landscape by making good teams better.
It wasn't truly possible that a big name like Stanton would be moved without the bigger markets in the league checking in to see the price tag. But at last, we're finally here. So with three of the bigger markets in the MLB involved in the Stanton sweepstakes, who has the biggest advantage?