Dodgers: Why LA is Still the Favorite to Trade for Stanton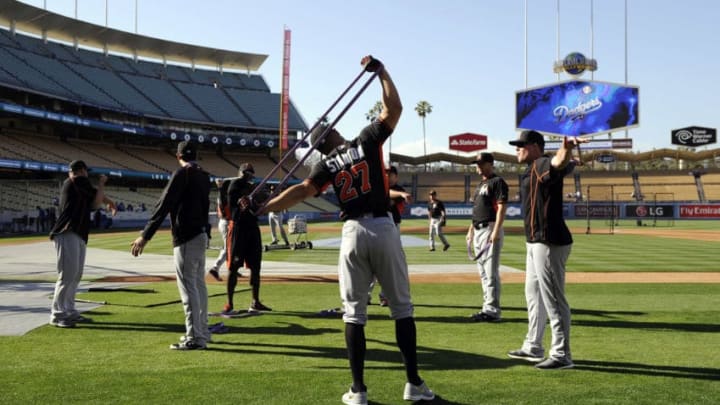 LOS ANGELES CA - APRIL 27: Giancarlo Stanton /
HOUSTON, TX – NOVEMBER 03: Jose Altuve /
4. Houston Astros
The Astros are the defending World Champions. It's obvious any player would waive their no-trade clause to join a young, talented team amidst their defending championship season. So it makes sense why Stanton would accept a trade to the Astros. But is it feasible?
The Astros aren't known as an organization that signs players to big contracts and pays the luxury tax fees. They are a franchise that prides itself on a "home-grown" player state of mind. After all, that's how their core was created this season with Altuve, Correa, Bregman, Keuchel, McCullers and the several other in-house names.
Now what was interesting was how GM, Jeff Luhnow has changed the approach of this organization. The last offseason after not making the playoffs, Luhnow felt there was a need to bring in some veteran presence to guide their youthful core. Luhnow signed Brian McCann, Carlos Beltran, Josh Reddick, Charlie Morton and others to make sure this young team remains relevant. Well, that paid off in a big way with Houston's first World Series Championship.
Luhnow also pulled off a very unprecedented Astros move by trading for veteran ace Justin Verlander after the July trade deadline. The deal meant that the Astros would assume the remaining $56 million left on Verlander's contract through 2020. You don't see small market teams like the Astros make a trade for a veteran pitcher with a big contract. You typically see them trading away their veteran high priced player for younger assets with more years of control.
Which is why the Astros are a highly unlikely team to trade Stanton. This franchise has never been one to trade the control of their prospects for the services of a super-star. The superstars that the Astros have are home-grown, and I anticipate it staying that way.
The fact that the Astros are defending World Champions isn't going to force a trade here. Even with the opportunity to become an early 2000's Yankee-like dynasty, this has never been the ownership style. The Astros come in fourth on Stanton's list to make a trade happen.