Dodgers: Why LA is Still the Favorite to Trade for Stanton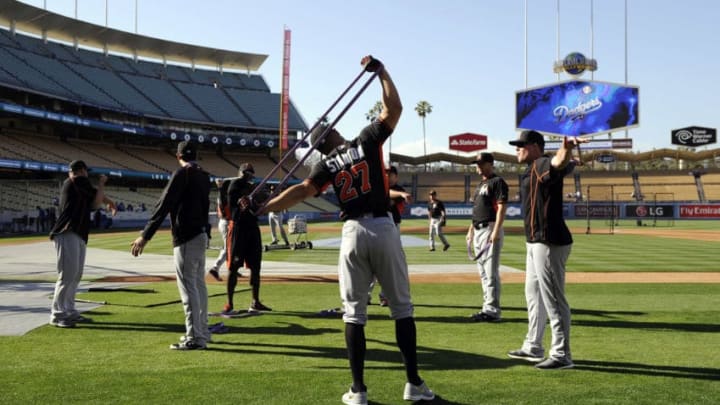 LOS ANGELES CA - APRIL 27: Giancarlo Stanton /
CLEVELAND, OH – NOVEMBER 01: Kris Bryant /
3. Chicago Cubs
Well, what do you know? Another young team that is fresh off of a Championship victory. The Cubs didn't come up as a big surprise as a potential trade candidate for Stanton. They are one of the bigger market teams that could work out a deal sufficient for both parties.
So will Theo Epstein jump on the opportunity to add a 40 home run bat to his lineup? We'll have to wait and see, but my initial thought was no. The Cubs' needs go far and beyond a power hitting outfielder.
They have a young outfield with Schwarber (24), Almora (23), Heyward (28), and even Happ (23). Stanton is head and shoulders better than all of those players, but I don't see Epstein trying to improve an outfield that doesn't need much improvement. Especially when you consider that Brice Harper could be a free agent next offseason and the Cubs would be very likely in play to sign him.
Their room for improvement is on the mound. Jake Arrieta is a key component of their pitching staff, and he's not a lock to return to Chicago. They recently signed Tyler Chatwood so that could be a sign that they are prepared to move on from Arrieta. But the point here is that their emphasis this offseason will be to improve their pitching. Their bullpen was one of the worst in the league and was a big reason why the Dodgers were able to eliminate them in the NLCS.
This move just doesn't make sense for Epstein to make an illogical move to trade away prospects and tie up their payroll for one player that improves an aspect of their team that is okay. If we were talking about a Chris Sale then yes, they'd be atop the list. But for an outfielder, it really doesn't make sense. Their lineup has plenty of players who have big home run potential, adding Stanton improves it, but not to the level that you'd think. The Cubs are third on Stanton's list to pull off a trade.