Dodgers: Why LA is Still the Favorite to Trade for Stanton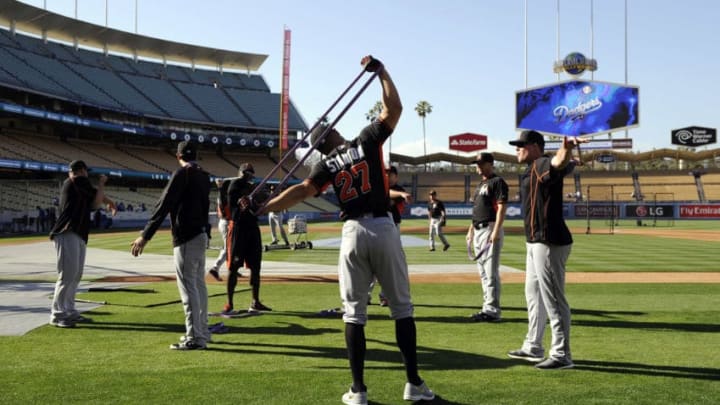 LOS ANGELES CA - APRIL 27: Giancarlo Stanton /
NEW YORK, NY – OCTOBER 17: Aaron Judge /
2. New York Yankees
No surprise here. Another young team with the huge potential to win a championship. I respect that about Stanton's narrow list of teams. It shows that he wants to compete for a championship. Afterall, all those home runs and MVPs don't mean anything if you don't have a ring. But onto the Yankees.
Geez. I really don't think that ballpark can withhold Judge and Stanton on the same team. Can you imagine that? Geez! They would set the record for most team home runs in a season, and the New York would have to build a roof for the train that transports people to Yankee Stadium.
Would the Yankees pull the trigger on a Staton trade? Well, I wouldn't put it past them as they did a trade similar to this deal trading for A-Rod 14 years ago. For Yankee fans, it could seem like deja vu to hear George Steinbrenner is linked to another superstar who signed a 10-year deal. But did the A-Rod trade actually benefit the Yankees? Sure they won a championship, but this was a deal that didn't end in a pretty breakup. Now should Steinbrenner do it again?
If you're going based on needs, the answer is no. The Yankees, like the Cubs, have a promising outfield. Also similar to the Dodgers, Steinbrenner has promised the team will get under the luxury tax threshold.
It seems like Steinbrenner, and the Yankees are looking forward to the upcoming 2018 free agent class and willing to save their salary for Manny Machado, Josh Donaldson, or Bryce Harper. Quite frankly it makes sense. Either Machado or Donaldson makes much more sense than Stanton as it weakens a team in their division and also locks down third base for them which is a revolving door at this point.
It won't surprise me if the Yankees pull off a deal to bring in Stanton. That lineup will have a whole lot of power with Stanton, Judge, Sanchez, and even Gregorius. Multiple reports are suggesting a deal could get done if the Marlins are willing to take Ellsbury and Castro's contract back in return for Stanton's $295M. I don't think the Yankees are as big as a long shot to make a deal for Stanton.