Dodgers: A Heartfelt Goodbye for Adrian Gonzalez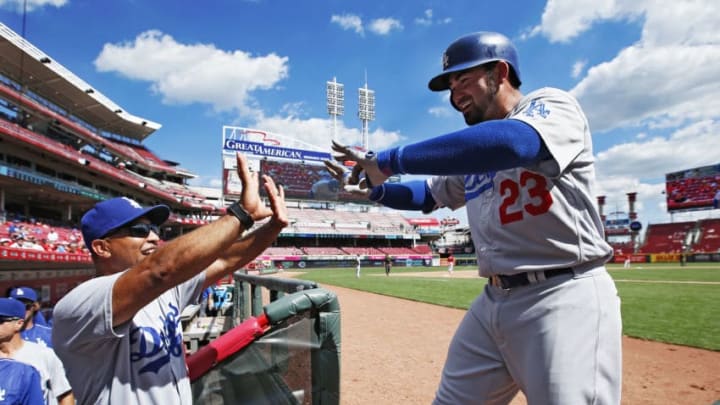 CINCINNATI, OH - AUGUST 22: Adrian Gonzalez /
We all remember Adrian Gonzalez's first at-bat as a Dodger back in August of 2012. Gonzalez drilled a three-run home run that hugged the right-field foul pole at Dodger Stadium. That was the beginning of a memorable career with the Dodgers.
Gonzalez spent a little more than five full seasons with the Dodgers and was everything Dodger fans could ask for. He was the heart and soul of the clubhouse and was their offensive leader up until the past two seasons. Still today, I consider A-Gon to be the epitome of the baseball player that belongs in Dodger blue. A player that was not only a leader on the field and in the clubhouse but also in the LA community.
The trade did not come as much of a surprise to many Dodger fans. Gonzalez has struggled the past two seasons and spent 66 games on the disabled list last season. It certainly makes things easier for an organization to move on from such a veteran when they have the reigning NL Rookie of the Year in Cody Bellinger lurking.
But, even with Bellinger, this trade is more of a mutual separation than a trainwreck divorce. Gonalez had a full no-trade clause and was in his final year of his seven-year contract. Dave Roberts could have found Gonzalez playing time, given the versatility Bellinger has to play all three different outfield positions. But as Andrew Friedman noted in his press conference, this was less about playing in 2018, and more about playing beyond that.
""One of the factors for him [Gonzalez], which we totally understood, was his desire to play not just in 2018 but potentially a few years beyond that, Friedman said."
Adrian Gonzalez even took to Twitter to explain his decision to approve the trade to the Braves.
As always, A-Gon was a class act and made a decision that made sense for him and the Dodger organization. Since the trade, Gonzalez has cleared waivers and is now a free agent available to sign with any team. The New York Mets are among the first teams to reach out to A-Gon, but I feel Gonzalez is better suited with an AL contender.
Gonzalez hit .280/.339/.454 with 101 home runs in 735 games through 5 1/2 seasons with the Dodgers. He led the Dodgers to five consecutive NL West titles and made one All-Star appearance as a Dodger in 2015. In the postseason, Gonzalez had 7 home runs in 30 games with the Dodgers and averaged more than 3.5 RBI per series.
Next: Dodgers Don't Have to Force a Kemp Trade
We'll never forget the excitement that Gonzalez brought to Los Angeles when Ned Colletti made that blockbuster trade. All of us over at Dodgers Way would like to wish A-Gon a huge good luck wherever he ends up. I hope to see him return to the Dodger organization in some capacity either as a broadcaster or potential hitting coach.