Dodgers Prospect Prose: The Steady Rise of Mitchell White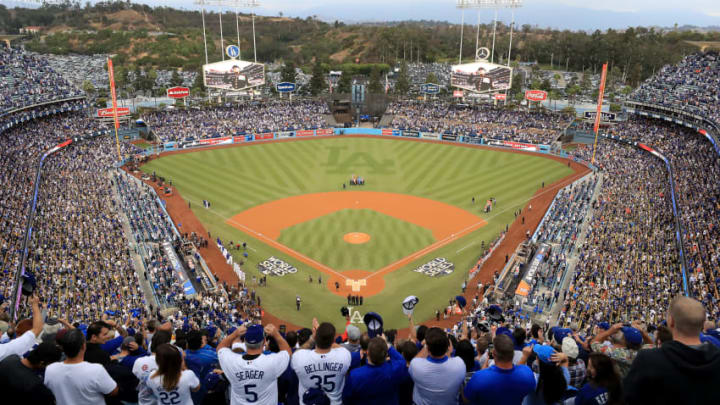 LOS ANGELES, CA - NOVEMBER 01: A general view during the national anthem before game seven of the 2017 World Series at Dodger Stadium on November 1, 2017 in Los Angeles, California. (Photo by Sean M. Haffey/Getty Images) /
Armed with a power fastball and a biting cutter, White has ascended various prospect charts in recent years. If he can find a way to put together a few more innings, 2018 could see Mitchell White make his biggest jump yet.
Mitchell White woke up Monday and found out that he was considered a top 100 prospect. Top 69 actually, at least according to Baseball America. He joins fellow Dodger talent Walker Buehler, (#13) Alex Verdugo, (#37) Keibert Ruiz, (#40) on this list. A surprising exclusion was Yadier Alvarez, who ranked in the top 30 last season. At one point last year, the flamethrowing Alvarez was considered by some to be the premier pitching prospect in the Dodger Organization. While both are still extremely young and have years to hone their craft, White and Alvarez appear to be headed in opposite directions at the moment.
A Cali Kid, the twenty-three-year-old White was drafted in the 2nd round out of Santa Clara University. According to MLB.com's top 30 list, in 2016, he was ranked the 27th best prospect in the organization. While some prospects lists have yet to be released, Mitchell generally ranks in the middle of the top 10 currently in the organization. He, along with Alvarez, Buehler, and Dennis Santana, form the highly heralded, righty power pitching prospect quartet. At one point last season, White was quoted as saying:
More from Dodgers Prospects
""We were talking about the highs the other day. I think I hit 97 (mph). Santana, 98. Then Buehler hit 99. We were talking about 'We've got to get to that next one. We've got to get to triple digits.' It's fun.""
White had a generally splendid campaign in 2017. He carried a pretty 2.93 ERA across 19 starts and struck out 88 batters over 73.2 innings. Even better was his WHIP, which sat at just 1.03. Still, it's not all sunshine and ice cream for White. While possessing a seemingly sturdy frame at 6'4 and 207 lbs., White has yet to prove he can carry a major league workload. He missed time last year with a broken toe and has had previously had Tommy John surgery. This means he likely won't be seen much at or at all at Dodger Stadium in 2018. Still, if he can find a way to stay healthy and increase his workload, then expect White's upward ascension to continue.
The same can't quite be said for Yadier Alvarez. After blowing the competition away in 2016, Alvarez struggled to find the plate last season. He walked an unsightly 50 batters in 92.1 innings, but his down year last year isn't the end of the world by any means. Certainly not when armed with a fastball that can reach 100 MPH. However, his career trajectory is looking more and more like he will end up in the bullpen like so many had previously said. Obviously, that alone will hamper Alvarez's perceived value, not to mention the control issues.
Next: A Kershaw injury could change everything
 If White can continue his stellar work and increase his workload, he can definitively overtake Alvarez's spot in the prospect rankings. With Walker Buehler seeming destined to join the rotation at some point next year, 2018 could be the year in which Mitchell White cements himself as the Dodger's top right-handed pitching prospect going forward.