Dodgers: A Hidden Prospect Who Could Make a Difference in 2018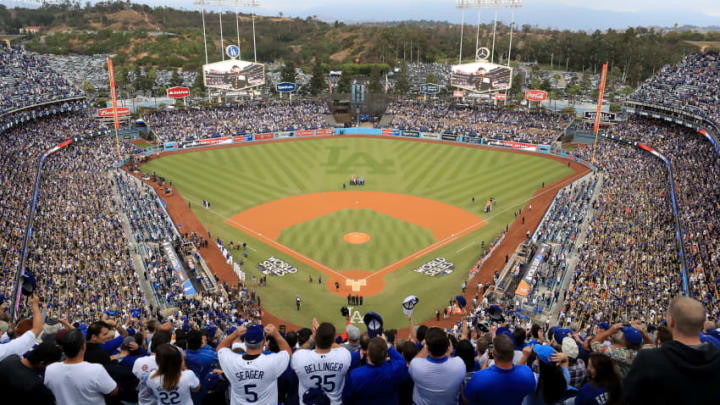 LOS ANGELES, CA - NOVEMBER 01: A general view during the national anthem before game seven of the 2017 World Series at Dodger Stadium on November 1, 2017 in Los Angeles, California. (Photo by Sean M. Haffey/Getty Images) /
Matt Beaty is the best Dodgers' prospect you may have never ever heard of. After a phenomenal 2017 season, Beaty could very well have an opportunity to make an impact on the big league roster. Fans should take the time now to get to know a player that could easily find his way into the show this year.
Matt Beaty has a story that follows the path of few before him. In 2011, Beaty was drafted 1446th overall by the Royals as a catcher out of Dresden High School in Dresden, Tennessee. The 48th round pick knew what was best for him, so he turned down the selection and went to college at Belmont University in Nashville, Tennessee. There, Beaty trained hard and stayed in school for all four years earning a degree in business and a four-year education on the diamond.
Beaty's decision to play in college paid off and it ultimately got him drafted yet again but this time by the Dodgers and in the 12th round of the draft. Now a college graduate, the young catcher would begin his professional career.
In his first pro season, Beaty was electric. On the season he slashed .314/.368/.412 and carried an OPS of .770. Not only did he shine with his bat but also in his new positions, first and third base. Beaty's combination of gold glove defense and superb offense expedited his journey through the minors.
In his second season, 2016, Matt was already playing in High-A where he shined yet again. His power increased, and he hit 11 home runs on the year and was a productive batter improving his contact rate and lowering his swing and miss percentage. The now 23-year-old, made his way into the Dodgers' top 30 prospects.
More from LA Dodgers News
As if he had not already done enough, the third and first baseman now playing in Double-A, stepped it up yet another notch. Last year, Beaty hit .326 on the season in 438 at-bats. The new swing that saw him staying more level to the ball translated to even more power hitting a career-high 15 home runs. Along with his power stroke, Matt's new swing helped cut down his strikeout rate and allowed him to go down on strikes just 54 times on the entire season. And, to cap off his great year, Beaty was recognized as the Double-A Player of the year.
The numbers speak for themselves, and so do the awards. But Beaty's success has opened the door for an exciting 2018 season.
The Dodgers have stayed away from the free agency market. In part because of the luxury tax threshold but also because of supreme confidence in the organizational depth. Matt Beaty, who will likely start the year in Triple-A, could use this to his advantage.
Beaty plays two positions very well. He is a third baseman by trade and can get the job done better than most at first base. The Dodgers also added left field to his repertoire of positions probably to prepare him for a bench role in the future.  
While that may not seem like the most glamorous role for someone who is so good, I can assure you it is the right one for the soon to be 25 years old. Beaty can avoid swings and misses. He is known for making solid contact with the ball and keep it out of the infield. This ability, especially on a team that finished fourth overall in doubles, is critical as it helps move runners further into scoring position and avoids unproductive outs. This makes him the ultimate bench player as his contact hitting can be easily plugged in wherever it is needed in the order.
Next: How can the Dodgers make room for Yu Darvish?
The stats speak for themselves and the role with the team makes too much sense. After receiving his first big league spring training invite yesterday, Dodger fans should waste little time familiarizing themselves with Matt Beaty as it would come as no surprise to see him on the big league roster sooner than later.