Dodgers Sit atop PECOTA Rankings Just Like Last Year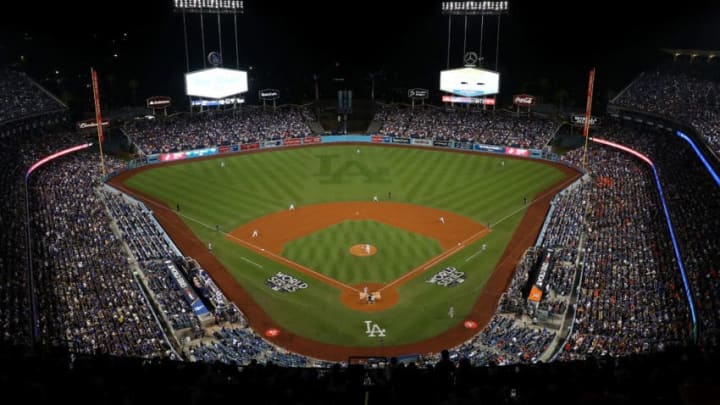 LOS ANGELES, CA - OCTOBER 31: A general view during the fourth inning of game six of the 2017 World Series between the Houston Astros and the Los Angeles Dodgers at Dodger Stadium on October 31, 2017 in Los Angeles, California. (Photo by Joe Scarnici/Getty Images) /
PECOTA's 2018 projections are out, and the top has some familiar faces up there.
PECOTA released their annual preseason regular season projections, and it does not look too different from what you might think. For the second year in a row, the Dodgers are projected to win the most games in the National League with 99 victories. This is coming off a year when PECOTA surprised everyone and forecasted the Dodgers would win 98 games.
At the time it seemed outlandish, and you could not blame people for the same thinking. The Chicago Cubs were a 103-win team that just won the World Series and was young and only expected to get better.
But the Dodgers not only lived up to the hyp but surpassed them, winning 104 games, buzz-sawing their way through the NL playoffs, all the way to one win shy of a championship.
Along with them are the defending champs Houston Astros, who are also expected to win 99 games, which would be the most in the American League. And like Los Angeles, they were supposed to win the most games in their respective league last season.
What's interesting is the rest of the NL West. The Arizona Diamondbacks are expected to regress from 93-69 to 86-76 (still second in the division), followed up by the San Francisco Giants at 84-78. The Colorado Rockies, on the other hand, have been, one can say, disrespected. After breaking out and going 87-75 last year, PECOTA has them at 78-84.
They are a terrific young team with established players, so expecting them to be fourth in the division with an 11-game regression is a bold claim. In fact, you can argue the Giants are being shown a little too much respect with the projected 20-win jump.
From last to third. That's asking a lot for a team that was arguably the worst in baseball last year. And they still terrible pitching and added past-their -primes Evan Longoria and Andrew McCutchen to an aging and expensive offensive core.
More from LA Dodgers News
And as expected, the rebuilding San Diego Padres are expected to finish last. But don't sleep on them. While they may not do anything this season, they have loads of young talent and can surprise and win more than the expected 73 wins.
Regarding player performance, Clayton Kershaw is projected to throw 188 innings with 224 strikeouts, a 2.53 ERA, and 0.95 WHIP. The team's best three position players (Seager, Turner, and Bellinger) are expected to regress as well. But that is what PECOTA has been known for.
They always project the lower end of a player's performance, and that has been their thing for years, just like fantasy sports projections are. Kershaw has always blown out his PECOTA projections as has Seager the last two years. They do it with almost every player around the league but expected the numbers to comfortably topped.
Next: Don't expect Buehler to open the season in LA
All in all, the projections are favorable for LA because it ultimately comes down to the team's performance over everything else. But you can't have the best record without elite play so expect the players to come back strong, and possibly even stronger than last year.