Dodgers: Carrying an Extra Position Player Could be Helpful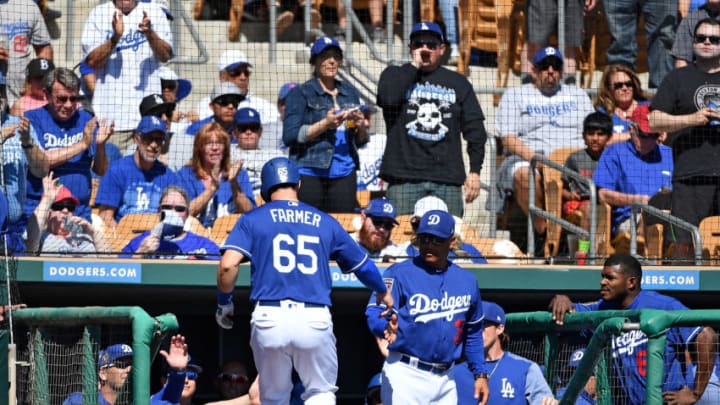 GLENDALE, AZ - MARCH 03: Kyle Farmer /
Dave Roberts announced that they will carry eight relievers on their Opening Day roster. However, I believe the Dodgers should abandon that idea and carry an extra position player instead.
If we learned one thing after two seasons with Roberts manning the ship, it is that he is not shy about using his bullpen. This is especially the case come October. So the fact that Roberts wants to carry an eighth reliever over a fifth position player makes sense at first glance.
As it stands six of the eight starting positions are locked down by an everyday guy. Catcher will be a platoon with Grandal and Barnes. While left field is anyone's guess. If the Dodgers use eight relievers that means only four position players will be coming off the bench.
Of those four, three are set. Chase Utley, Enrique Hernandez and Grandal/Barnes depending on who isn't starting that day. Essentially that leaves one opening, and that will likely be for the runner-up in the left field competition. Matt Kemp, Andrew Toles, Joc Pederson and Alex Verdugo are all competing for the job and of those four only two can make the roster.
Having just four spots really limits what the Dodger can do. Really looking at it they have just three bench players because although Chase Utley was once a great player but he is just a shell of who he used to be. His age was very evident towards the end of the season. Meanwhile, Hernandez will likely play a big part in platooning left field.
Having a fifth position player off the bench can be very helpful for this grueling 162 game season. What makes this even more intriguing? Kyle Farmer has been absolutely tearing the cover off the baseball this spring. He is looking very good. With just four spots he has a slim chance of making the roster because of the two catchers already slotted in.
Adding a fifth bench player could pay dividends. This would add even more versatility to the bench because it would allow Barnes to play second base when needed or pinch hit without having to worry about not having a catcher to come off the bench.
Not only would it help the MLB roster but it could be very helpful for the lower divisions. This would give Will Smith the opportunity to move up to AAA and be the full-time catcher in Oklahoma City. Doing so would let rising prospect Keibert Ruiz take over in AA and be good for both of their developments.
They could also go in a different direction with this spot and decide that three of the four left field competitors would stay on the roster. Which may seem bad but it could be very helpful. Here is why this could help the Dodgers.
More from LA Dodgers News
Matt Kemp is not going to play minor league baseball this year. The Dodgers need to get his trade value up and he is doing very well anyway. It is going to be difficult to send Pederson down after his heroic effort in the World Series. In all honesty, it is probably best for Toles to start the season in OKC, as an effort to ease him back from his major injury.
That leaves us with Alex Verdugo. Carrying a fifth spot makes it a heck of a lot easier to start him in left field because it would allow both Joc and Kemp to remain on the roster as the Dodgers would like. Starting Verdugo in left field right now seems like the best course of action to me. Verdugo had an underwhelming welcome to the bigs last September.
But after that small taste of the bigs, Verdugo looks very loose this spring and he has been playing very well. After all, it seems like it is time to completely buy into the youth movement that started with Seager and has progressed with Barnes, Bellinger, and Taylor. A fifth spot makes it a much more comfortable decision for Roberts to start Verdugo.
Finally having eight relievers may seem like it would help lower bullpen fatigue, but this could be counterproductive. If Roberts knows he has that many arms waiting he would be more likely to use his bullpen and wear out arms sooner rather than later. If he has just seven relievers he will be a bit more cautious with how he utilizes his bullpen because he knows his resources are a bit scarcer.
Next: How will the Dodgers fare against the Rockies in 2018?
Also, the bullpen is already more than capable of handling its own with seven relievers. Jansen, Cingrani, Alexander, Baez, Stripling, Fields, and Garcia will be a dominant bullpen. An eighth reliever may seem good at first glance but adding another bench player can help the Dodgers not only this season but for the future of the organization.