Dodgers: A Schedule Breakdown for the First Month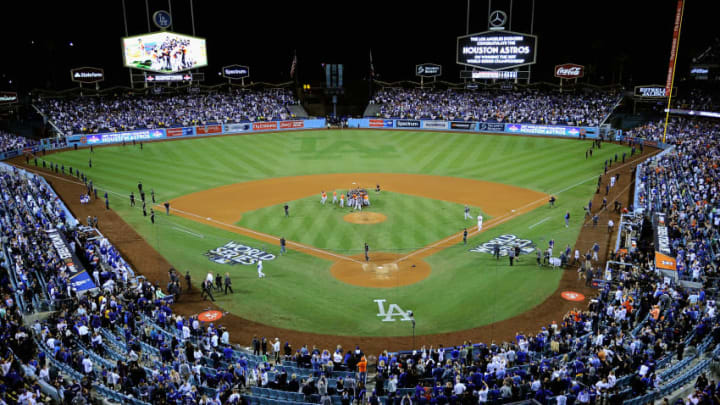 LOS ANGELES, CA - NOVEMBER 01: The Houston Astros celebrate defeating the Los Angeles Dodgers 5-1 in game seven to win the 2017 World Series at Dodger Stadium on November 1, 2017 in Los Angeles, California. (Photo by Kevork Djansezian/Getty Images) /
With Opening Day only nine days away, it's time to get fired up and start analyzing the Dodgers early-season schedule.
Yes, for the 46th straight year, the prediction here is that the Dodgers will win the West. But let's not get ahead of ourselves. Let's take it one month at a time, beginning with the March/April games.
The Dodgers will play a total of 28 games by the end of April. Fifteen of those games will be at home, and 20 will be against teams from the Western Division, giving the Dodgers a great opportunity to quickly distance themselves from the rest of the West.
Los Angeles will also play 10 of its first 28 against teams that made the playoffs a year ago: seven against Arizona and three against Washington.
The 2018 Major League season will begin earlier than any year in history (except for the 2014 Australia year) because of a new rule in the recent Collective Bargaining Agreement mandating an extra four days off for each team beginning this year. The Dodgers will have five off days off in April: the 5th, 9th, 12th, 19th, and 26th.
To avoid rainouts/snowouts, the Dodgers traditionally don't leave the Pacific Time Zone until at least midway through April. 2017 was an exception when they played at both Colorado and Chicago back-to-back beginning April 7.
In 2016, the team didn't leave the Pacific time zone until April 19; in 2015 it wasn't until May 4; in 2014 it wasn't until April 30.
This season, the Dodgers don't leave the Pacific Time Zone until May 15. That would be game number 41 of the season in Miami.
So let's take a quick look at the nine opening-month series (plus one game against Arizona on April 30).
The Dodgers open the season Thursday, March 29, at home with a four-game series against the San Francisco Giants. This will be one of the rare regular-season times when both teams' number one, two, three and four starters all line up perfectly.
On Sunday, Dave Roberts confirmed the Dodgers rotation order by announcing that Alex Wood, Kenta Maeda, Rich Hill and Hyun-Jin Ryu would follow Opening Day starter, Clayton Kershaw.
The Giants figure to send Madison Bumgarner to the hill to face Kershaw just a year after he spent much of the season on the disabled list due to a fluke dirt bike accident in Colorado. Bumgarner should be followed by Johnny Cueto and Jeff Samardzija. Ty Blach, Chris Stratton, and Tyler Beede are still battling for the final two rotation spots.
While he normally torments Dodger hitters, MadBum is yet to conquer Kike Hernandez. Hernandez doesn't figure to get too many starts in left field in 2018 but his career .450/.476/.900 slash line with two home runs and five runs batted in against Bumgarner could certainly earn him the Opening Day start.
Cueto is coming off a down year when he went a pedestrian 8-8 with a 4.52 ERA. He was 18-5 with a 2.79 ERA in 2016, his first year with the Giants.
Samardzija says he's "not where he wants to be" this spring. After going 9-15 in 2017 with a 4.42 ERA, it's no wonder he's not where he wants to be this spring: 0-1, 10.64 ERA with seven walks and seven strikeouts in 11 innings through his first four starts.
The Giants front office decided to reload this off-season instead of rebuilding after finishing 64-98 and a staggering 40 games behind the Dodgers in 2017. They added a couple of former All-Stars to the batting order this off-season in outfielder Andrew McCutchen and third baseman Evan Longoria. But they also added some age, as Cutch is entering his age 31 season, and Longoria is entering his age 32 season.
While another superstar season can be expected out of catcher/first baseman Buster Posey, San Francisco is banking on rebound seasons from Brandon Belt, Brandon Crawford, Hunter Pence, Joe Panik, Mark Melancon, Johnny Cueto, and Jeff Samardzija.
That's a whole lot of rebounding to expect from a core group that isn't getting any younger.
The Dodgers then travel to the desert to face the Diamondbacks. If all remains on schedule both teams will send their number five, one, and two starters to the mound during the three-game series.
It will be Hyun-Jin Ryu's first start of 2018 before Kershaw and Wood pitch over the weekend.
Arizona's current rotation plans show Zack Godley as the No. 5, and he should be followed by Zach Greinke and Robbie Ray.
The last time these teams met, the Dodgers were cruising to a three-games-to-none National League Division Series victory.
The Dodgers tagged Taijuan Walker for four earned runs in the first inning en route to a 9-5 victory in Game 1. They then scored four against Ray in 4.1 innings in an 8-5 Game 2 win before beating Greinke, 3-1, to complete the series sweep.
The Diamondbacks still boast a formidable offensive team with perennial MVP candidate and All-Everything first baseman Paul Goldschmidt, who hit 36 home runs last season while driving in 120 with a .297/.404/.563 slash line.
Third baseman Jake Lamb came into his own last season with 30 home runs and 105 RBIs at the age of 26. Outfielder A.J. Pollock is also a threat offensively and defensively, and the team added another 30-home run bat in right fielder Steven Souza.
After an off day on April 5, the Dodgers travel to the Bay Area for a three-game tilt with the Giants.
Depending on whether or not San Francisco chooses to take advantage of two off days the week they play the Dodgers and skip the number five guy in the rotation earlier that week, the Dodgers could see Cueto, Samardzija and a combination of Blach, Stratton, and Beede.
The Dodgers should be able to use Kershaw and miss Bumgarner in this series.
The Dodgers have another off day on April 9 before welcoming in the Oakland A's for two games.
The A's are a young team struggling to find their identity. They traded away the ace of their staff, Sonny Gray, last season, and are extremely young around the diamond and on the mound.
Of their projected starting eight, only two players are older than 27. Of the six pitchers vying to be in the rotation, only one is older than 27.
First baseman Matt Olson and third baseman Matt Chapman are the power bats in the infield, while shortstop Marcus Semien is looking to repeat his 2016 season.
With the A's being so young and practically starting anew, a series sweep should be the goal.
After another day off (the Dodgers have every Thursday off in April), LA hosts Arizona for three games.
The Dodgers travel to San Diego from April 16-18. The Padres' made a big splash this off-season highlighted by the surprise signing of free agent first baseman Eric Hosmer to an eight-year, $144 million deal.
The Padres haven't spent like that on a free agent since (OK, we actually had to look this one up) James Shields and his four-year, $75 million contract in 2015. Shields didn't make it out of 2016 with the club.
With Hosmer, Wil Myers, Freddie Galvis and Manuel Margot, the Padres have a chance to stay out of the cellar for a second consecutive season.
After another Thursday off day, the Dodgers face what will be their greatest home challenge of 2018 as the Washington Nationals visit for three games.
Washington boasts two of the best starters in not just the National League, but all of baseball, in three-time Cy Young Award winner Max Scherzer and three-time All-Star Stephen Strasburg.
More from Dodgers Way
Throw in Gio Gonzalez and Tanner Roark, and there isn't a "gimme game" in the bunch.
Offensively, the Nats still boast one of the games top bats in right fielder Bryce Harper. Second baseman (and Dodger killer) Daniel Murphy, shortstop Trea Turner and third baseman Anthony Rendon make up arguably the best infield in the game.
The Miami Marlins come in next. The Marlins traded away their entire outfield of Marcell Ozuna, Christian Yelich and some guy named Giancarlo Stanton during the off-season, and anything but a three-game sweep just wouldn't do.
The Dodgers close the month with three more games at San Francisco and one at Arizona. After April, the Dodgers will have only 10 games remaining against the Giants and 12 with the Diamondbacks, making it a little more difficult for any of the teams to gain ground on each other as the summer progresses.
Next: Dodgers Way Top Ten Dodgers of All-Time: Number Nine
After all that, a best-case scenario for the Dodgers is a 20-8 record. Worst-case is about 15-13, with a realistic scenario of about 18-10. Either way, it'll be a Wild (West) ride to open the season.