Dodgers: Pre-Spring Training 25-man Roster Predictions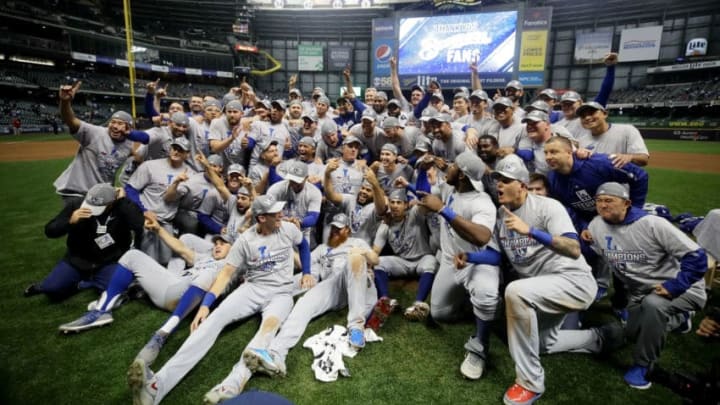 MILWAUKEE, WI - OCTOBER 20: The Los Angeles Dodgers celebrate after defeating the Milwaukee Brewers in Game Seven to win the National League Championship Series at Miller Park on October 20, 2018 in Milwaukee, Wisconsin. (Photo by Jonathan Daniel/Getty Images) /
PHOENIX, AZ – SEPTEMBER 26: A.J. Pollock #11 of the Arizona Diamondbacks is congratulated by Paul Goldschmidt #44 after hitting a three-run home run during the fifth inning of the MLB game against the Los Angeles Dodgers at Chase Field on September 26, 2018, in Phoenix, Arizona. (Photo by Jennifer Stewart/Getty Images) /
Time for the lineup! Since this has the potential for being the longest slide by a mile and a half I am going to bold the player and his position with a small blurb about him under the bolded name.
Catcher, Russell Martin
The Dodgers went and traded for Russell Martin when their chances at acquiring JT Realmuto got too bleak. Martin is in his second stint in LA and the soon to be 36-year-old will look to prove he still has "it". Martin is my starting catcher to start the season.
First Base, Cody Bellinger
Cody Bellinger could see a significant amount of time in center field this season with Puig no longer on the team and AJ Pollock's health being a question mark. To start the year though, Bellinger is the first baseman.
Second Base, Chris Taylor
Second base was a big question heading into the offseason and there is no clear answer to that question quite yet. However, my guess for the opening day starter is Chris Taylor and he will switch off with Enrique Hernandez and Max Muncy depending on the opposing pitcher.
Shortstop, Corey Seager
This is super exciting. After missing the majority of 2018 after Tommy John surgery, Seager is healthy and projected to be ready for the start of the year Putting Seager back into the lineup brings one of the best Dodger bats back on the diamond and he will be a massive boost to the batting order.
Third Base, Justin Turner
Turner is the heart and soul of this team. He is one of the best bats on the roster and there was never a question about whether or not he would be starting at third to open the campaign.
Left Field, Joc Pederson
There were rumors going around that he would be traded but Joc Pederson is still on the roster. So long as he is, he projects to be the starting left fielder with Enrique Hernandez and Chris Taylor there to back him up against southpaws.
Center Field, AJ Pollock
The Dodgers inked Pollock to a four-year deal with a fifth-year option and there is a reason for that. When he is healthy, Pollock profiles as an extremely productive bat that can hit at the top of the order. He also brings amazing defense to the table thus, he is the starting center fielder.
Right Field, Alex Verdugo
Well, this is sad. For the first time in six years, Yasiel Puig is not the starting right fielder for opening day. He's on the Reds now. Alex Verdugo is here and ready to play and for the first time in his career, he should be a big league starter.
Here is the starting lineup (not in batting order):
Lineup: Martin, Bellinger, Taylor, Seager, Turner, Pederson, Pollock, Verdugo