Dodgers: The Starting Rotation Must Relieve the Bullpen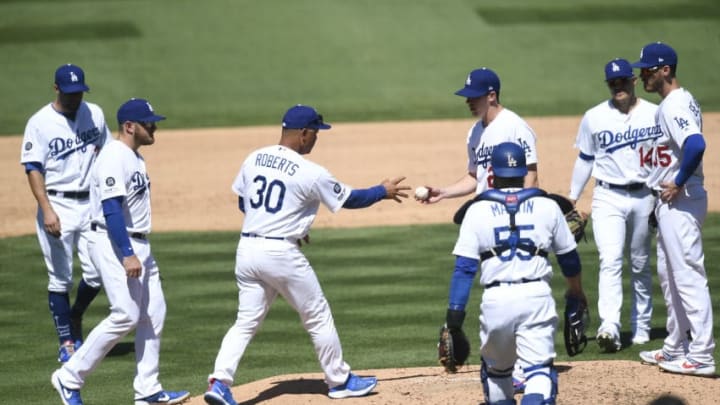 LOS ANGELES, CA - MARCH 31: Walker Buehler #21 of the Los Angeles Dodgers gives up the baseball to manager Dave Roberts #30 as he replaced after giving up three runs during the fourth inning against Arizona Diamondbacks at Dodger Stadium on March 31, 2019 in Los Angeles, California. (Photo by Kevork Djansezian/Getty Images) /
The Dodgers' rotation was supposed to be one of the biggest strengths of the 2019 team.  So far they have failed to provide innings and overworked the bullpen.
Early on in the 2019 season, it's becoming clear that the Dodgers' bullpen is going to be a wild ride at the end of games.  Outside of Dylan Floro, Scott Alexander, and Kenley Jansen, the rest of the bullpen has been hit or miss.  While Jansen gave up a run in Friday night's game it's tough to fault him when he has not had much work to stay sharp.
The starting rotation began the season without Clayton Kershaw and Rich Hill who will both return in the next two weeks with Clayton returning Monday.  The rotation depth was supposed to be a strength but so far they have been a weakness.  The rotation has failed to eat innings, overworking the bullpen, not making a struggling pen's job any easier.
Walker Buehler has pitched a total of twelve innings over three starts, giving the ace in the making an average of four starts an inning.  Julio Urias has not been efficient with his pitches either, lasting five innings in two starts, and under four innings in another.  Then there was the groin injury to Ryu that put the bullpen in a bind to begin the week and what was a rough four-game series in St. Louis.
More from LA Dodgers News
Besides Ryu, who has been the one innings eater for the Dodgers before his injury, Ross Stripling and Kenta Maeda are the only other starters to pitch into the sixth inning.  The good news for the Dodgers is that Clayton Kershaw returns Monday night against the Reds.  While Clayton's velocity may not be what it once was, he can still "eat" innings for the Dodgers and consistently make it through six innings.
Rich Hill also threw a simulated game on Friday and is progressing towards a rehab start.  While Hill has the label of being injury prone, when healthy last season he did a pretty good job of pitching past the fifth inning.  The return of Hill and Kershaw should help lessen the bullpen's workload but until then the current rotation needs to help "relieve" the bullpen.
Today the Dodgers have a bullpen game with Caleb Ferguson starting so the bullpen is once again going to be tasked with a heavy workload.  Joe Kelly pitched more than an inning last night and will likely be unavailable tonight.  The rotation is going to need to start taking on more innings, and hopefully, that starts with Ross Stripling on Sunday,