Marshall Kasowski could be the Dodgers' next big thing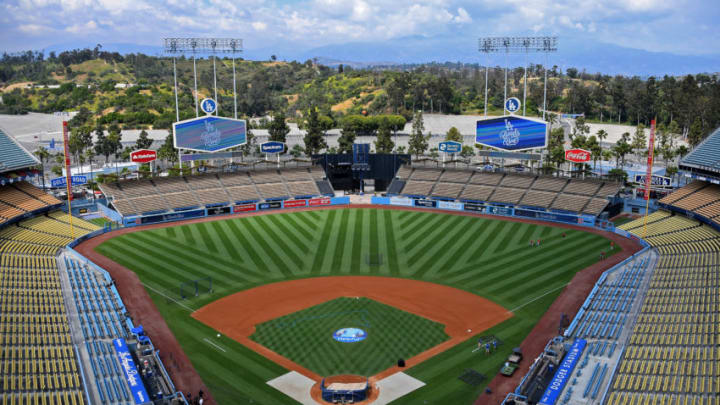 LOS ANGELES, CA - MAY 11: General view of an empty Dodger Stadium before the game between the Los Angeles Dodgers and the Washington Nationals on May 11, 2019 in Los Angeles, California. (Photo by Jayne Kamin-Oncea/Getty Images) /
With a strikeout rate akin to Josh Hader's, a delivery like the one of Josh Collmenter and the control of Delin Betances, the Dodgers harbor one of the minor league's most intriguing relief pitchers. In him, a potential answer to the team's reliever struggles and a prospective heir to the Kenley Jansen throne.
Marshall Kasowski is the Dodgers' minor league machine on the mound but his story would give off no such sense of extreme success.
As detailed in Emily Waldon's piece for The Athletic, in high school, Kasowski did not make the varsity baseball team until senior year, a year that would be cut short by a case of mono. But, velocity, determination and desire to keep playing ball would land Kasowski an opportunity to attend Panola College on a full ride baseball scholarship.
Panola is a small community college right about three hours driving from Houston. There, in 2014, Kasowksi was recognized with a First-Team All-Conference spot and another opportunity. He would then transfer from Panola to the University of Houston where he was a hopeful starter charged with bullpen duties.
Kasowski worked hard. He did what he needed to do to get back in Houston's rotation but it would all be cut short by a horrific car accident in December of 2015. Kasowski's baseball career was derailed, his passion in jeopardy.
The car accident had a domino effect. Yes, it physically hurt the hopeful college arm but so to did it hurt his innings at Houston. Kasowski chose to leave the school and chase his dream at West Texas A&M, a Division II school that offered him a spot as a starting pitcher.
Kasowski's career took shape there. He was drafted by the Dodgers in the 13th round of the 2017 MLB draft.
Kasowski joined the Dodgers' minor league ranks right away playing nine games in 2017 between the Arizona Rookie League squad and in Midland, Michigan, home of the Low-A Great Lakes Loons.
More from Dodgers Way
Between the two levels, Kasowski was solid in a workload that proved nothing. Across the nine games, he had a 3.18 ERA and struck out 15 batters in 11.1 innings pitched.
That season was his teaser. It was a taste of what was to come and in 2018, Kasowski brought it. He delivered and vaulted himself into the conversation of prospects to keep an eye on.
That year, Kasowski traveled the system. He started his campaign in Low-A, made 15 appearances there and was promoted to High-A Rancho Cucamonga. With the Quakes, he was phenomenal striking out 44 batters in 23.2 innings and was promoted to Double-A Tulsa. Cumulatively, Kasowski finished 2018 with 64.2 innings pitched. In them, he gave up just 15 earned runs for a 2.09 ERA but most impressive were the punchouts. There were 111 of them, 15.4 per nine innings.
2018's successes risked being lost in that year and consumed by the offseason. Baseball is as much a game of momentum as it is skill and the layoff in between seasons had the potential to ruin Kasowki's tremendous progress.
But, as the winter ended and spring began, Kasowki showed no signs of slowing down. His dominance from 2018 was there yet again for the 2019 season.
It hasn't been a lot of work but the sample size has certainly shown signs of trending in a similar direction to last year. In 14 games and 17.1 innings pitched, Kasowski has a 2.60 ERA and an absurd 32 strikeouts to go along with it. His K/9 rate is 16.6.
By strikeouts alone, Kasowksi is unbelievably dominant. His fastball is the main culprit in collecting K's and it doesn't do it with velocity.  At 92-94 miles per hour, Kasowski rings up batters with a heater the rises like a helium-filled balloon. It's accompanied by a below average changeup and a curveball but scouts have said in the past that the fastball is the make or break pitch in the 24-year-old's arsenal.
The fastball comes off the mound in the 75 to 80 percent range and his secondary stuff is seldom thrown but for a quick change of pace to go back to the heater. The fastball's excellence comes not only from its off movement but also because of its arm slot. Kasowski comes from a straight up and down spot. His fastball comes from behind his head and perfectly plays to the disappearing act fastball.
But for every rose, there is a thorn. For Kasowski's strikeouts, control is a huge problem. In 2018, Kasowski walked batters at a 5.3 BB/9 clip and this year, he's on pace for a mark in roughly the same ballpark.
For now, the lack of control has still generated an insane amount of swings and misses as is evident by the strikeouts. However, as he climbs through the minor leagues and into the majors, more advanced hitters will know to lay off the pitches for they miss the zone fairly often.
Truth be told though, Kasawski profiles as a high-end reliever with stuff that leaves hitters wondering what they swung at. Yes, he needs a secondary pitch and yes, the control could be a lot more polished off but the base is there for extreme success in the bigs.
Kasowski has a story of failures turned to triumphs. His determination to stay on the mound and terrify hitters while he's there is evident and the numbers show for it. His rise to the majors could be imminent and the Dodgers could be better for it.