Dodgers 2020 schedule released: includes AL Central games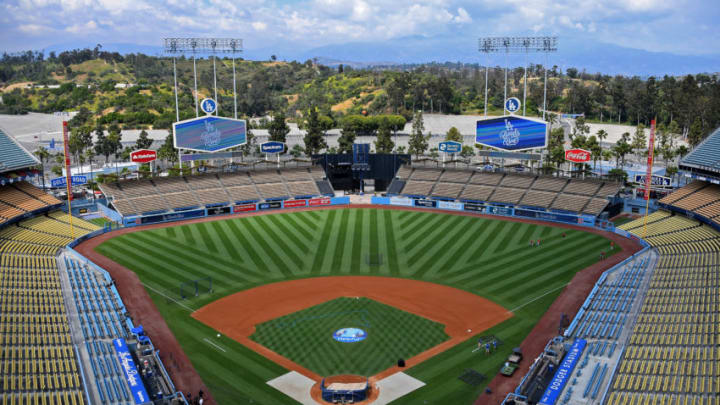 LOS ANGELES, CA - MAY 11: General view of an empty Dodger Stadium before the game between the Los Angeles Dodgers and the Washington Nationals on May 11, 2019 in Los Angeles, California. (Photo by Jayne Kamin-Oncea/Getty Images) /
Major League Baseball released it's 2020 schedule for all 30 teams, Monday morning, and the Dodgers schedule for the massive, action-packed, campaign is set.
The Dodgers' season will open earlier than usual with a home set against the Giants on March 26, 28 and 29 in Los Angeles. The three-game stand to kick-off the 2020 campaign features a day off between opening day and game two of the season.
More from Dodgers Way
Los Angeles and the rest of the NL West will play host and be hosted by the AL Central for interleague play with the exception of the Dodgers annual matchups with the Angels which will take place on July 10-11 in Anaheim and August 25-26 at home. The rest of the Dodgers' AL competition will be AL Central matchups set to take place as early as April 28 in Los Angeles against the Twins and as late as September 8 against the White Sox in Chicago against the White Sox.
The interleague play could serve as a huge advantage for the Dodgers in 2020 with the team taking on the least consistent a lowest producing division in baseball. Over the last two years, the AL Central has had the lowest combined win percentage across both leagues and the Dodgers should take advantage of sets.
Beyond the actual game schedule, 2020 should be a huge year for the Dodgers on an off the field. Provided they win this year's NL West title (they will), the Dodgers will search for their eighth straight NL West victory next year as well as host the 2020 All-Star Game set to take place on Tuesday, July 14th with festivities taking place over the weekend and into the beginning of the week.
The Dodgers' home will also have a new look starting next season with plans for major renovations set to take place this offseason. The Dodgers will be remodeling the left and right field pavilions to make one long concourse surrounded by an incredible looking area that will have no restaurants, standing room and play structures for kids. The new features will not compromise the capacity of Dodger Stadium nor will it include the removal of the historic wave-cut roof and wooden bleacher seats.
The Dodgers will also have to prepare for the upcoming campaign with a few on-field decisions. Hyun-Jin Ryu, Rich Hill and Kenley Jansen (player option) are set to hit the open market with Dustin May, Tony Gonsolin and Julio Urias stepping in and looking ready to assume rotation spots.
Ryu is on Cy Young pace this year, Hill has been a major contributor when healthy and Jansen, despite struggling more than ever this year, has the most saves in franchise history.
Between player decisions, stadium renovations, the All-Star week and the AL Central, the Dodgers have a lot to look forward to next year.