Dodgers: Playoff picture remains unclear as regular season winds down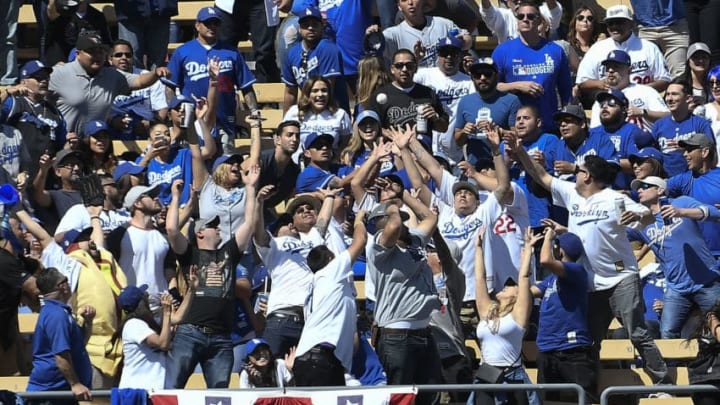 LOS ANGELES, CA - MARCH 28: Fans reach for the two run home run ball hit by Enrique Hernandez #14 of the Los Angeles Dodgers against pitcher Zack Greinke #21 of the Arizona Diamondbacks during the fourth inning against Los Angeles Dodgers at Dodger Stadium on March 28, 2019 in Los Angeles, California. (Photo by Kevork Djansezian/Getty Images) /
LOS ANGELES, CA – MARCH 28: Fans reach for the two run home run ball hit by Enrique Hernandez #14 of the Los Angeles Dodgers against pitcher Zack Greinke #21 of the Arizona Diamondbacks during the fourth inning against Los Angeles Dodgers at Dodger Stadium on March 28, 2019 in Los Angeles, California. (Photo by Kevork Djansezian/Getty Images) /
As of today, no team other than the Dodgers has a magic number of zero, so the question remains: Who will be in the playoffs along with the Dodgers?
In both the American and National Leagues, no other team has clinched. The Yankees and Astros have their magic numbers under 10, sure, but they still haven't clinched. The Braves are still being trailed by the Nationals too closely to give them their division title.
So the Dodgers, and us their fans, are in a unique position. We get to examine the league around us without the blinding fervor that enveloped us last season. We don't need to worry about making the playoffs or winning the division. No game 163 for us, the team already handled their business.
To do so, I decided to examine the other NL playoff hopefuls and where they may finish, while leaving out the AL teams, because no one likes a jinx.
In this article, I'll go through and, based on if the season ended at midnight on Wednesday, Sept. 11, I'll set up a playoff bracket and run through the teams from the NL who made it, and how they compare to LA.
The teams that are in?
NL WEST: Dodgers  NL CENTRAL: St. Louis Cardinals  NL EAST: Atlanta Braves
NL WILDCARD #1: Washington Nationals  NL WILDCARD #2: Chicago Cubs or Milwaukee Brewers