Dodgers: Playoff picture remains unclear as regular season winds down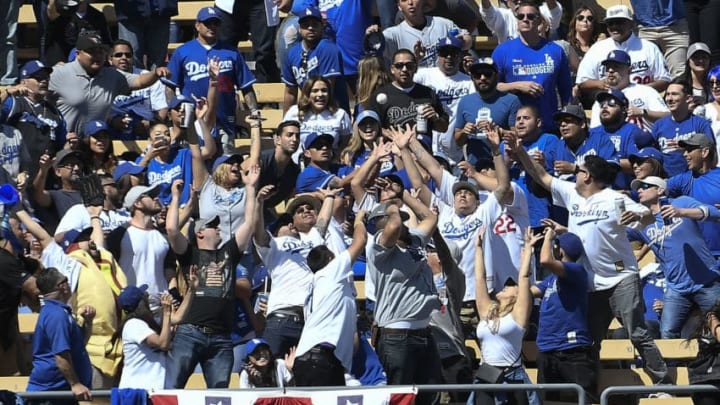 LOS ANGELES, CA - MARCH 28: Fans reach for the two run home run ball hit by Enrique Hernandez #14 of the Los Angeles Dodgers against pitcher Zack Greinke #21 of the Arizona Diamondbacks during the fourth inning against Los Angeles Dodgers at Dodger Stadium on March 28, 2019 in Los Angeles, California. (Photo by Kevork Djansezian/Getty Images) /
PITTSBURGH, PA – SEPTEMBER 08: Jack Flaherty #22 of the St. Louis Cardinals delivers a pitch in the first inning during the game against the Pittsburgh Pirates at PNC Park on September 8, 2019 in Pittsburgh, Pennsylvania. (Photo by Justin Berl/Getty Images) /
NLDS Matchup #1: Atlanta vs. St. Louis
PROFILE: The St. Louis Cardinals
In round one of the NLDS, the Braves and Cardinals will do battle, with the Braves getting homefield advantage. The Braves should have the advantage on paper, as they get to host the Cardinals to start off the series and also will have the deeper offense, starting rotation, and bullpen.
And yet, the Cardinals still could pull off a series win that would surprise few baseball purists. The Cardinals are a team built on August and September momentum. Think back to the days of David Freese and Albert Pujols, when the Cardinals would waltz into the playoffs as a Wild Card and win it all. Here's how MLB.com reviews that 2011 Wildcard team that went on to win the World Series.
"The Cardinals went 90-72 in 2011, finishing six games behind the Brewers in the NL Central. St. Louis had a powerful lineup featuring Pujols, Berkman and Holliday. On the mound, the Cards boasted four starters with ERAs below 3.60, in Chris Carpenter (3.45), Jaime García (3.56), Kyle Lohse (3.39) and Edwin Jackson (3.58). The pitching staff was deftly handled by Yadier Molina behind the plate, and the club was managed by Hall of Famer Tony La Russa, in his final season at the helm for the Cardinals."
This year's Cardinals looks quite different. For starters, their rotation is not as stacked as it was eight seasons ago. Jack Flaherty, a second-half All-Star (11 starts with a 0.76 ERA and 89 strikeouts since the All-Star break) and ace of the Red Birds leads a rotation that is talented but young, and not very battled seasoned.
Only two members of the starting rotation have pitched in the postseason before, Adam Wainwright and Michael Wacha, and Wainwright's 89 postseason innings of a 3.03 ERA are something he is unlikely to replicate at this stage in his career. Wacha is being phased out of a starting role in favor of young kid Daniel Ponce De Leon, though neither is likely to start any games in October.
On offense, the team is led by veterans and is bolstered by youth, just like in the rotation. Paul Goldschmidt and Marcell Ozuna lead the charge with 81 RBI apiece. Goldy's 13 second-half home runs have kept him relevant despite an uncharacteristically low .259 batting average. The real star of the Cards offense though is shortstop Paul DeJong. The 26-year old leads the team in runs scored and doubles, is tied for second in home runs with Ozuna, and is third in RBI.
If they move past the Braves, they could provide some danger to whatever team that face in the NLCS, but they really will have to overcome deficiencies in the starting rotation to do so.