Dodgers: The top 3 free agent starting pitchers after Gerrit Cole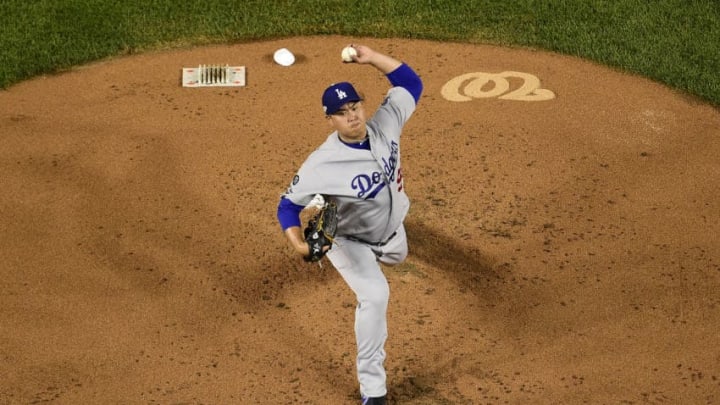 WASHINGTON, DC - OCTOBER 06: Hyun-Jin Ryu #99 of the Los Angeles Dodgers pitches in the first inning against the Washington Nationals in Game 3 of the NLDS at Nationals Park on October 6, 2019 in Washington, DC. (Photo by Patrick McDermott/Getty Images) /
WASHINGTON, DC – OCTOBER 06: Hyun-Jin Ryu #99 of the Los Angeles Dodgers pitches in the first inning against the Washington Nationals in Game 3 of the NLDS at Nationals Park on October 6, 2019 in Washington, DC. (Photo by Patrick McDermott/Getty Images) /
The MLB season could end tonight and after the Dodgers and the rest of the league will be looking for ways to improve their rosters.
The Dodgers and the rest of Major League Baseball await the conclusion of the World Series so that the hot stove season can begin.  The World Series could end tonight and even if it goes seven games then Wednesday will be the end of the season.  The Dodgers will be looking to upgrade their rotation whether it's bringing Hyun-Jin Ryu and Rich Hill or seeking alternatives in free agency.
The top free agent on the market will obviously be Gerrit Cole and the chances the Dodgers overpay for his services remain minuscule.  Stephen Strasburg technically has to opt-out of his contract so he is not in this article but if he does opt out he is the clear cut second-best starter on the free-agent market.  Here are the top three starters on the free-agent market after Gerrit Cole.