Nats win World Series without platoons, Dodgers should take notes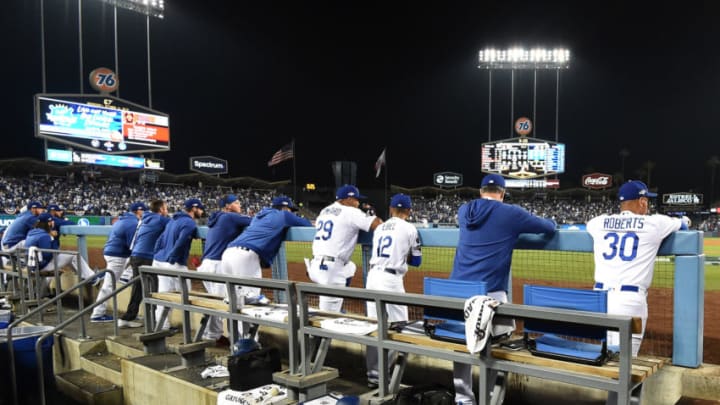 LOS ANGELES, CALIFORNIA - OCTOBER 09: The Los Angeles Dodgers look on from the dug out en route to losing to the Washington Nationals 7-3 in ten innings of game five and the National League Division Series at Dodger Stadium on October 09, 2019 in Los Angeles, California. (Photo by Harry How/Getty Images) /
Just like the Dodgers two years ago, the Nationals took the American League champion Astros to Game Seven of the World Series.
But unlike the Dodgers, they were able to win it all. A lot of what I've been thinking (and writing) about in the few weeks since the Dodgers were eliminated involves what the Nats and Astros have that the Dodgers don't.
Now that the World Series is over, some of the major differences, like Gerrit Cole or Anthony Rendon, may leave their respective teams to come to LA, but of course, they may stay or go to 28 different teams that all could use a facelift.
But in all seriousness, I did find one very major difference between the Dodgers and Nationals. And while it did come down to personnel, it did not come down to a specific player, like Juan Soto for example, who is not someone that a few million dollars and a short-term contract could satisfy.
No, to me, the difference between the Dodgers and the Nationals is that one relies on platoons and matchups while the other has a relatively stable core.
The more I thought about it, the more I realized how ideologically different the two teams are, and how being so different helped the Nats overcome an LA team that seemed destined for a ring just a month ago. This ideology blankets the offenses of both franchises.
Both teams had eight hitters play in one hundred games, which implies balance. Five Dodgers had 500+ plate appearances, and so did only five Nationals. Was I wrong to make the claim that the Dodgers platooned and had a less consistent lineup than the World Champs?
I still don't think so. Here's why. It goes without saying that over the course of a 162 game season that injuries and trades and even just ineffectiveness will make it so that consistency is roughly equal across the league, especially amongst two solid teams.
The real difference can be seen within the lineups. Between June 1 and September 28, Rendon hit third for the Nationals every single game. No rest days, no pinch-hit appearances late in the game in lieu of a start. For those three months, he was the Nats three-hole hitter. And if you make things less stringent, he hit third or fourth for the Nationals every single day of the season from May 5th to September 28. That's an incredible degree of consistency, even just for one hitter.
Compare that to Cody Bellinger, who over the same span, hit third or fourth for the Dodgers in all but eight games between May 5th and September 28. That's pretty good, and some of that comes down to luck, especially when comparing one star to another.
More from Dodgers Way
So let's compare the tops of each lineup, the top five slots specifically since they inarguably do the majority of the heavy lifting for both offenses. Were the Nats more consistent then, too?
Between May 5th and September 28, the Nationals utilized their playoff batting order (Trea Turner, Adam Eaton, Anthony Rendon, Juan Soto, Howie Kendrick) a whopping 38 times over that span.
For the Dodgers, I'll use their most common string of five hitters over that same span, since their playoff lineup had Bellinger in either the five- or six-hole (Joc Pederson, Max Muncy, Justin Turner, Cody Bellinger, Corey Seager). Between May 5th and September 28th, the Dodgers utilized this exact lineup only 24 times.
The Nationals consistency is already notably more present than that of the Dodgers, but now let's remove that pesky fifth slot since Howie Kendrick and Corey Seager both battled a fair share of injuries over this stretch.
Between May 5th and September 28th, the Nationals utilized the top-four of Turner, Eaton, Rendon, Soto an astounding 88 times, and for two weeks of that time, Trea Turner was on the IL. That level of consistency is amazing, considering that all of these players did indeed miss time in 2019, and all but Soto had stints on the IL.
The Dodgers top four of Pederson, Muncy, Turner, Bellinger did not approach 88 games together in that sequence. Or 70 games. Or even 50 games. It was nearly half that, at 26 games. This reflects injuries and lineup tinkering and all sorts of excuses I'm sure you're all mulling over right about now. But none of them discount my argument.
The Nationals built a top of the order that, thanks in small part to good injury luck, had a ton of time to practice hitting around each other in perfect sequential order. This helped them know exactly when to steal or bunt in the playoffs, and just provided manager Dave Martinez, with stability. This confidence in the top of the lineup obviously paid off in the playoffs, as they all went on to have postseason performances that ranged from solid to career-defining.
If LA plans on competing in 2020, they should try tinkering less maybe, but certainly should emphasize consistency. To do so, Turner should not be moved out of the top half of the lineup, but guys like Bellinger and Seager (if he isn't dealt first), and even Muncy and Pederson, should be given the chance to play every day, so that they can practice ironing out the kinks and making in-game and in-series adjustments.
Even if the team loses a few extra games in 2020, they can afford to do so, and for the sake of the playoffs and for the fans that watch them in the playoffs, they should.