Dodgers projected 26 man roster before free agency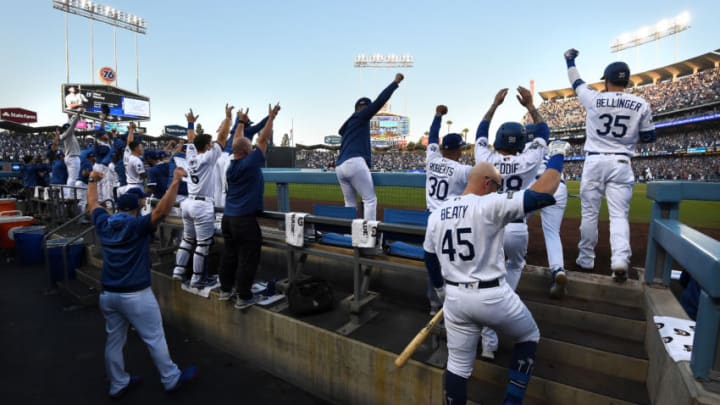 LOS ANGELES, CALIFORNIA - OCTOBER 09: The Los Angeles Dodgers dug out celebrate after Max Muncy #13 hit a two run home run in the first inning of game five of the National League Division Series against the Washington Nationals at Dodger Stadium on October 09, 2019 in Los Angeles, California. (Photo by Harry How/Getty Images) /
LOS ANGELES, CALIFORNIA – OCTOBER 09: The Los Angeles Dodgers dug out celebrate after Max Muncy #13 hit a two run home run in the first inning of game five of the National League Division Series against the Washington Nationals at Dodger Stadium on October 09, 2019 in Los Angeles, California. (Photo by Harry How/Getty Images) /
While free agency has begun, it's worth taking stock of what the Dodgers have now and what their projected roster would be prior to any free agent signings or trades.
Free agency officially began on Monday but it will likely take weeks before the Dodgers make any free agent signings or trades.  The bulk of the action should take place in December especially once the Winter Meetings arrive.  Until then Andrew Friedman and company will be talking to executives around the league and trying to gain traction on possible moves to come.
One rule that will change next season's roster is the implementation of the 26 man roster.  Next season active rosters will expand to 26 players with a maximum of 13 pitchers allowed.  For September there will only be two additional roster spots opened unlikely the previous rule where rosters expanded to 40 players.  Here is what the Dodgers' 2020 roster looks like before any moves are made in free agency.