Dodgers: Comparing pros and cons of rumored third basemen targets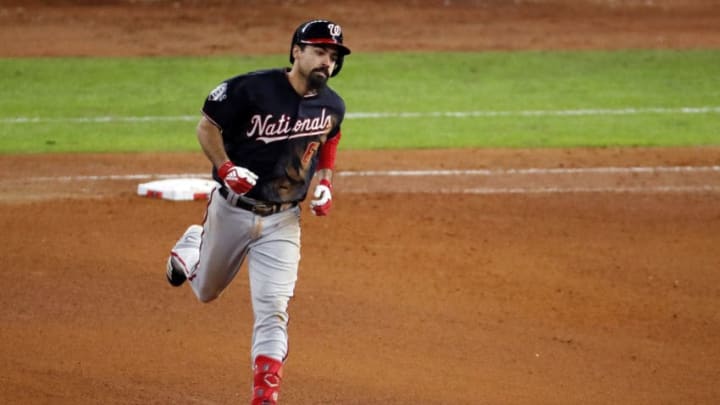 HOUSTON, TEXAS - OCTOBER 30: Anthony Rendon #6 of the Washington Nationals hits a solo home run against the Houston Astros during the seventh inning in Game Seven of the 2019 World Series at Minute Maid Park on October 30, 2019 in Houston, Texas. (Photo by Tim Warner/Getty Images) /
HOUSTON, TEXAS – OCTOBER 30: Anthony Rendon #6 of the Washington Nationals hits a solo home run against the Houston Astros during the seventh inning in Game Seven of the 2019 World Series at Minute Maid Park on October 30, 2019 in Houston, Texas. (Photo by Tim Warner/Getty Images) /
Over the past few days, the Dodgers have been rumored to be interested in signing both Anthony Rendon and Josh Donaldson.
These two third basemen are arguably the top two players at the hot corner that are available via free agency, and maybe in general. If the Dodgers could acquire either of them, it would surely be a beneficial move for the defense, for the lineup, and more than likely for the clubhouse as well, as both players are veterans who have led teams into the postseason before.
The Dodgers failed to get past the Washington Nationals in the 2019 postseason. Even though the Nats went on to win the World Series, they really, on paper, should not have beat the Dodgers. Even so, the Dodgers and the front office certainly must feel pressure coming from the fans to improve at all (reasonable) costs.
Both of these free agents would only cost cash and a late second round draft pick, which is far less than a player of their caliber would cost on the trade market. This makes for the perfect storm. The team has a chance to fill their needs without making use of a trade market that would not be likely to be especially kind to a front office known to bring the best out of undervalued players.
The front office needs to make use of a bountiful market for hitters, especially third baseman, that exists this offseason, but they should be sure to be aware of the positives and negatives that surround both of the aforementioned players.
In this article, I'll break down the established pros and cons of each (past and present) super-star third baseman.