Dodgers: Comparing pros and cons of rumored third basemen targets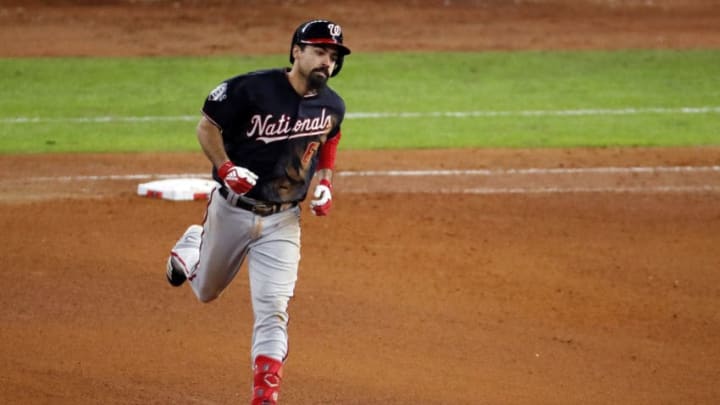 HOUSTON, TEXAS - OCTOBER 30: Anthony Rendon #6 of the Washington Nationals hits a solo home run against the Houston Astros during the seventh inning in Game Seven of the 2019 World Series at Minute Maid Park on October 30, 2019 in Houston, Texas. (Photo by Tim Warner/Getty Images) /
ATLANTA, GEORGIA – OCTOBER 09: Josh Donaldson #20 of the Atlanta Braves hits a solo home run against the St. Louis Cardinals during the fourth inning in game five of the National League Division Series at SunTrust Park on October 09, 2019 in Atlanta, Georgia. (Photo by Todd Kirkland/Getty Images) /
Pros for each slugger
For Rendon, there are plentiful reasons he'd make a great sign for the Dodgers. Here's how I wrote about him after Game Six of the World Series:
"Rendon's postseason performance alone demonstrates how important he can be to a club, especially in a short, high-stress series. He's somehow been even better in the postseason than he was during his career-best regular season. In both the regular season and the playoffs, he's hit over .330, with an OPS of 1.000 or better, and with a run scored and an RBI drove in once every six at-bats. He's one of the best in the game, plain and simple, and he'll be by far the best right-handed hitter and best infielder available via trade or free agency this offseason. The Dodgers are one of the best and deepest teams in the game, but their stars are not quite in the right spots. They are either too old to be heavily relied upon both in the regular season and in the postseason (think Clayton Kershaw and maybe now Justin Turner), or not postseason performers (think Cody Bellinger and Corey Seager)."
Rendon obviously solves the Dodgers problems on basically every important level. He's a postseason performer, he's a powerful righty bat, and he plays third base, which is a position that the Dodgers could serve to upgrade defensively. There is not much else that the team needs him to improve upon.
For Donaldson, he fits in favorably as well based on the same criteria used to argue for Rendon. He hits from the right side with power that is far above league average, and he plays a solid defense as well. Here's how I supported Donaldson once the rumors broke:
"Fangraphs had Donaldson at a 4.9 WAR in 2019, his best season since his 5.1 WAR season with the Toronto Blue Jays in 2017. Last season, to compile all that WAR, Donaldson hit 37 home runs with 190 runs+RBI with a .259/.379/.521 triple-slash line. He even made a positive contribution on defense for the NL East champions, as he had his best defensive runs saved season since 2014 with the Oakland Athletics. He really is a stud, and a veteran right-handed bat with plenty of power and defensive skill."
There's no way to separate either of these players from their 2019 success or their long track records of success in general. But both players do have some negative aspects that have gone overlooked since the rumors broke that really should not go overlooked.