Dodgers: Comparing pros and cons of rumored third basemen targets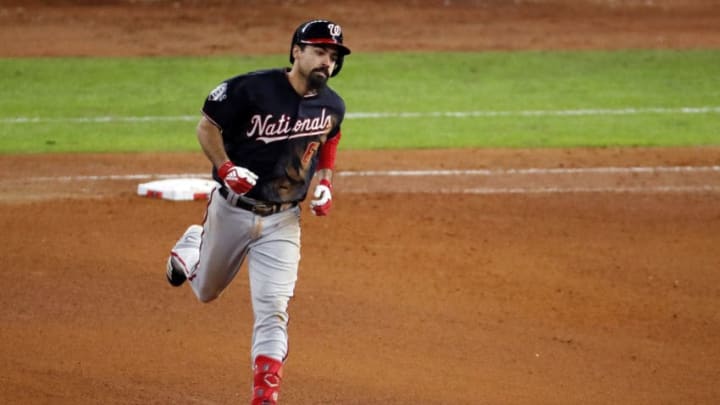 HOUSTON, TEXAS - OCTOBER 30: Anthony Rendon #6 of the Washington Nationals hits a solo home run against the Houston Astros during the seventh inning in Game Seven of the 2019 World Series at Minute Maid Park on October 30, 2019 in Houston, Texas. (Photo by Tim Warner/Getty Images) /
HOUSTON, TEXAS – OCTOBER 29: Anthony Rendon #6 of the Washington Nationals throws out the runner against the Houston Astros during the eighth inning in Game Six of the 2019 World Series at Minute Maid Park on October 29, 2019 in Houston, Texas. (Photo by Elsa/Getty Images) /
Cons for each player
Even though both players have plenty of pros, each comes with somewhat significant cons.
Rendon's negatives come mostly due to his likely contract size. He is predicted to be guaranteed a deal that is, conservatively, six-eight or more years of around $30-$35 million in average annual value. That is a price tag that scared the Dodgers away from former-Nationals All-Star Bryce Harper last winter. There are arguments to be made that Rendon is even better than Harper, so it really is likely Rendon will get a nice, juicy contract.
The Dodgers current front office does not pay out mega-deals, plain and simple. So despite all of the buzz surrounding Rendon and the Dodgers, the front office is likely just doing its due diligence and is not really actively pursuing Tony Two Bags.
More from Dodgers Way
Donaldson does not provide the mega-deal concerns since he's not likely to earn more than a three-year deal. But still, having the Bringer of Rain under contract for his age 34, 35, and 36 seasons could become problematic later in the deal, or even right away, sort of like what happened to A.J. Pollock.
The only counter I could bring against that argument is that Donaldson was far superior to Pollock in the two seasons before 2020, and that his injury history is far less extensive and less recent. Donaldson also does not play a position like a centerfield that is predicated on speed. Donaldson's arm is fully intact, as are his quick reflexes, based on last season, and as third baseman like Adrian Beltre would tell you, those sorts of skills don't just rapidly diminish for most stars. There certainly is a risk of this happening though.
For both players, there could be a problem surrounding how well they'd fit into the team's fabric. While both are leaders and both have been considered positive influences in their respective locker rooms in the past, clubhouse chemistry certainly is finicky. Adding a big star to lighten the load of stars currently on the team implies both change and past failures, something that may not be positive for some players.
Regardless of the risk, the Dodgers should certainly continue to engage in talks with both of these free agents to see if a reasonable and equally beneficial deal can be struck.