Dodgers young talent gives LA plenty of options for upgrades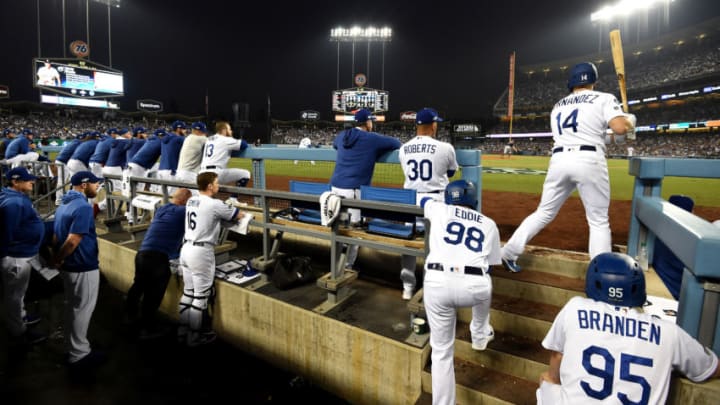 LOS ANGELES, CALIFORNIA - OCTOBER 09: Manager Dave Roberts of the Los Angeles Dodgers and Kike Hernandez #14 watch the game from dug out during game five of the National League Division Series against the Washington Nationals at Dodger Stadium on October 09, 2019 in Los Angeles, California. (Photo by Harry How/Getty Images) /
The theme for the Dodgers and Andrew Friedman this off-season seems to be roster flexibility.  The club does have plenty of options to upgrade.
Ever since his end of the season press conference, Andrew Friedman has appeared in numerous interviews and the common theme from them has been "flexibility" and "lots of options".  Friedman is true to his word here as there are a lot of options available for the Dodgers to upgrade their roster for the 2020 season.
The first kind of flexibility the team has is "cap space".  While baseball doesn't have a salary cap, the luxury tax has teams like the Dodgers operating like they are on a salary cap limit.  The Dodgers have been hesitant to go over the luxury tax line during Friedman's payroll slashing over the last few seasons.
After projected arbitration raises and potential incentives, the Dodgers are working with approximately $40 million dollars in space under the luxury tax line.  While the ideal scenario would be using it to sign one of Gerrit Cole, Anthony Rendon, or Stephen Strasburg, that is not the typical move the Dodgers have made during Friedman's rein.
A.J. Pollock has been the team's biggest free-agent signing under Friedman.  One of the "big three" will command at least double if not triple what Pollock is getting per season (12 mil luxury tax-wise).  But luckily for the Dodgers and Andrew Friedman, the club's young talent gives them plenty of options for upgrading the roster.
More from LA Dodgers News
Sticking to financials, the Dodgers are going to be paying minimum contracts to Walker Buehler, Matt Beaty, Alex Verdugo, Dustin May, Will Smith, and Tony Gonsolin in 2020.  That is a handful of very talented players all earning the minimum and leaving plenty of money for a big signing or two. Travis D'Arnaud just signed for eight million a season, Will Smith will likely outproduce him in 2020 while earning far less.
That is just one example and in a year where the starting pitching market is suspect after Gerrit Cole and Stephen Strasburg, pitchers like Julio Urias and Dustin May should fare better than a starter like Kyle Gibson who signed a three year thirty million dollar deal with the Texas Rangers.  The Dodgers' young talent saves the team tons of money and makes up for overpriced players like Pollock and Joe Kelly.
Then there is the other type of roster flexibility with an accumulation of talent and that is trading from their depth.  Even without adding a single starting pitcher, the Dodgers already have seven starting pitchers capable of filling in.  The team will likely add at least one more via free agency or trade.  The Dodgers could use their surplus of talent to bring in a big roster upgrade.
Francisco Lindor and Mookie Betts are two stars who are said to be on the trading block.  Severely more could join them as the Winter Meetings approach.  The Dodgers' surplus of big-league talent plus their deep farm system gives the club the ability to trade for any player they want.   Andrew Friedman is loaded with plenty of options to upgrade the Dodgers for 2020 and beyond.  Now it's time to see what he does.