Dodgers most financially impacted by the coronavirus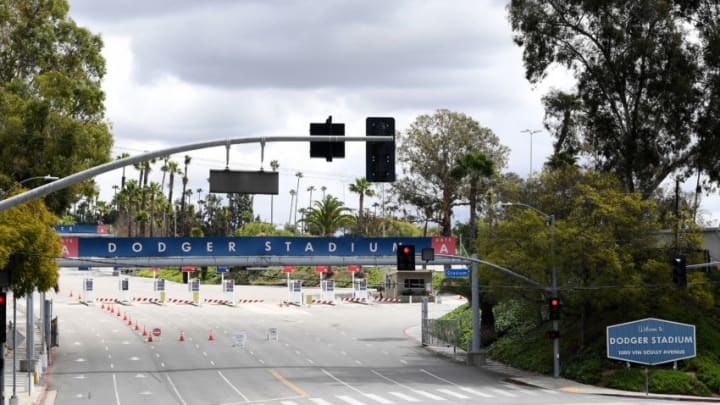 VARIOUS CITIES, - MARCH 25: Exterior pictures on the eve of Major League Baseball's opening day which has been postponed due to COVID-19 at Dodger Stadium on March 25, 2020 in Los Angeles, California, United States. (Photo by Harry How/Getty Images) /
The financial implications of a shortened or canceled 2020 season will impact Los Angeles Dodgers players in different ways.
As a baseball fan, you might be a nurse, or a grocery store worker, or a policeman. You might be one of the heroes on the front lines of our collective battle against the coronavirus. We salute you! It is your hard work and dedication that will pull Los Angeles and the rest of the country through this incredible challenge.
I open by making this point because most of us won't accumulate enough salary in a lifetime to equate to what some baseball players earn in a season, which is why it seems sort of silly to write about professional athletes losing money when there are readers who might have already lost their jobs and income as a result of the pandemic.
But since this is a baseball site, we talk about baseball. And as you will learn in this article, not every single player is swimming in pools of money like Donald Duck.
As Major League and Minor League ballparks, alike, remain closed throughout the country, revenue used to pay the players has dried up. Agreements have been made to provide financial assistance in the near-term, but the longer baseball is on hold, the greater the impact to 2020 salaries.
Let's take a look at the Dodgers players who are most impacted by this, starting with minor league players.
Minor League Players
This past offseason, Major League Baseball announced an increase to minor league minimum salaries. Rookie and short-season salaries were increased from $290 to $400 per week; and each minor league level received an incremental increase, all the way up to Triple-A players who will now make a minimum $700 per week. You don't need to pull out your calculators to figure out that these salaries aren't making anyone rich. Many Minor League players were struggling to get by before the coronavirus. Now, things could get worse.
Major League Baseball and the Players Association are trying to help these players in the short-term.
At the end of March, MLB announced they would pay minor league players $400 per week until the end of May. On Friday, the MLB Players Association decided to help even more, offering non-roster players, who were in Spring Training camps as of March 13 and have at least one day of MLB service time, an additional stipend, which is voluntary and relative to the time they have spent on a Major League roster.
Which Dodgers benefit from the financial assistance program offered by the MLBPA?
Twenty-three players received non-roster invites to Dodgers camp this season, of which seven players would qualify for the added financial support from the MLBPA.
Non-roster invitee, Connor Joe, was forced to leave camp before the March 13 cut-off date after learning he had testicular cancer. Hopefully, Joe is doing well and financially covered by the $555,000 Major League contract he signed with the Giants last season. Kyle Lobstein was also optioned before the deadline, so hopefully his past earnings help carry him over, too.
Major League Players
For Major League players, an agreement was reached in March to distribute $170 million to players on the 40-man roster, 60-day injured list and those on major league contracts that have been designated to the minor leagues. If a season begins, players will be paid their normal salaries, pro-rated based on the number of games scheduled; hence, the push to play as many games as possible.
Performance bonuses will also be pro-rated based on the length of the season. Obviously, if there is no season, salaries beyond the distributed $170 million amount and performance bonuses will not be earned.
Which Dodgers players are impacted the most by the new economic landscape?
1) Players on one-year deals. Blake Treinen (1-year, $10MM), Alex Wood (1-year $4MM), and Jimmy Nelson (1-year, $1.25MM) could all lose out if a season is canceled. They will only be paid their share of the $170MM until the end of May, and then their one-year deals effectively expire. For Wood and Nelson, they both signed one-year deals hoping to prove they could stay healthy.
For Wood, $2.5MM of his $4MM deal is based on the number of innings he pitches in 2020, a number that will be pro-rated significantly, and perhaps harder to reach if an injury occurs, since there will be less time for recovery.
Nelson's one-year deal includes a club option based on the number of games or innings he pitches in 2020. He was set to earn up to $5 million in 2021 if he played 40 games or pitched in 60 innings this season, thresholds that will be adjusted, and similar to Wood, perhaps more difficult to reach even at a pro-rated amount.
2) Players in their final season of arbitration. Some players are impacted more than others. Mookie Betts is set to make $27MM in 2020, and while he could lose a significant chunk of that, he will eventually recoup salary in a long-term deal. Players like Joc Pederson, Enrique Hernandez, and Pedro Baez face more financial risk, as each player is set to make less than $8 million in 2020, and could lose a majority of that as they hit the open market next winter without the guarantee of earning it back.
3) Everyone else. Anyone who relies on the MLB season to be played to earn a wage will be impacted. For players with back-loaded contracts, which is mostly everyone on a veteran deal, they lose a larger percentage of their total contract value due to the stoppage in play. For example, Justin Turner signed a four-year, $64 million contract in 2017 that is set to pay him $19MM, or nearly 30 percent of that value, in 2020 alone.
Clayton Kershaw is another interesting case. He signed a three-year, $93 million extension to keep him in a Dodgers uniform until 2021. The extension includes three $23 million bonus payments to be made between 2019-2021. Obviously, the 2020 payment is now at risk. Kershaw is also set to earn $1 million performance bonuses based on the number of starts he makes, which will be lost or pro-rated over a shortened season.
Joe Kelly will see his performance bonus for the 2020 season either adjusted or lost. He was set to earn $250,000 for each 30, 35, 40, 45, 50, 55 games finished, and $500,000 for 60 games finished.
Max Muncy might make out the best in terms of how his recent extension is structured. He is set to make only $1 million in 2020, of the $26 million potentially owed over the full-term of the three-year deal.
Special thanks to Cot's Contracts for salary and bonus information.