Fernandomania started 39 years ago today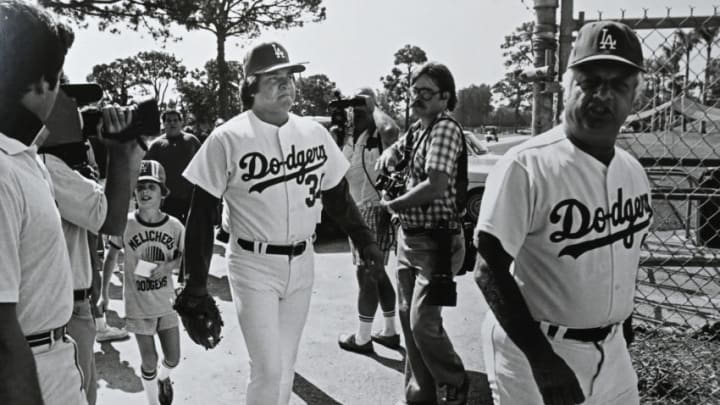 VERO BEACH, FL - FEBRUARY 15, 1981: Manager Tommy Lasorda #2 clears the way for pitcher Fernando Valenzuela #34 of the Los Angeles Dodgers during spring training at Dodgertown in Vero Beach, Florida. (Photo by Jayne Kamin-Oncea/Getty Images) /
On this date in 1981, a player by the name of Fernando Valenzuela became the youngest pitcher to start Opening Day for the Dodgers, igniting Fernandomania.
Who knew an injury to Jerry Reuss could spark an international sensation?!
After an injury forced Reuss to miss his Opening Day start, Tommy Lasorda turned to a 20-year-old rookie from Mexico, Fernando Valenzuela, to take the ball at Dodger Stadium to open the 1981 season.
Valenzuela became the first Dodgers rookie to pitch on Opening Day for the franchise, and the youngest pitcher to start an opener in the majors since Catfish Hunter in 1966.
But none of that mattered by the time Valenzuela, with his unique windup and stocky frame, took the hill. The 20-year-old pitched a complete game, five-hit shutout in a 2-0 Dodgers win in front of 50,000+ fans at Chavez Ravine, the same location where Mexican-Americans had been removed from their homes to build Dodger Stadium two decades earlier.
Valenzuela had pitched batting practice only two days earlier, before the team realized they would need him to pitch in the season's first game. He was originally scheduled to start two days later.
His Opening Day start marked the beginning of an incredible run that took over the sports world during the course of the 1981 season. Fernandomania took Major League baseball by storm, as Valenzuela won his first eight starts, all complete games, a stretch when he allowed only four earned runs.
Valenzuela would go on to win both the Rookie of the Year Award and Cy Young Award in 1981, on way to pitching for the Dodgers in the World Series. He finished the season 13-7 with a 2.48 ERA, leading the league in complete games (11), shutouts (8), and strikeouts (180).
That magical rookie season remains one of the highlights in Dodgers history.
Special thanks to the Los Angeles Times archive which was accessed to read the April 10, 1981 edition of the newspaper for background information used in this article.