Dodgers News: Restart proposal does not address All-Star game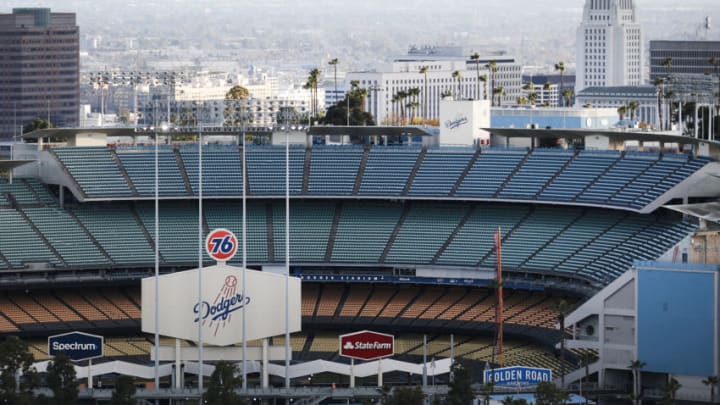 Dodger Stadium (Photo by Mario Tama/Getty Images) /
Dodgers Stadium was originally set to host the MLB All-Star Game on July 14th, but that plan appears derailed by the Coronavirus pandemic.
With news over the weekend of a proposal coming from Major League Baseball and the owners into a possible restart of the season, there was some significant excitement brewing in the baseball world. The purported plan would likely address various hurdles of how to safely conduct a shortened season in light of the Coronavirus pandemic, including testing, season size, safety precautions, field locations, realignment, and more. It was even rumored to include the usage of a universal designated hitter for all leagues.
What it does not include, is any mention of what will become of the MLB All-Star Game, according to Bill Shaikin of the Los Angeles Times.
It has been long-concluded that the MLB All-Star Game would not likely be held in 2020, given the need to shorten the season and accommodate as much baseball as possible. If the season starts in early July, as it has been proposed and shared by Ken Rosenthal of The Athletic, then it would be doubtful that there would be time to fit in an All-Star game, let alone keep it on its original planned date of July 14th.
However, given that it is set to be held at Dodgers Stadium, and next year's game has already been determined to be held at Truist Park in Atlanta, there is still the looming question of what will happen to the Dodgers' opportunity to host the game. The team went through extensive renovations in preparations for hosting the All-Star Game for the first time since 1980. That is the longest active drought in Major League Baseball.
Dodgers fans are eager to know whether the team will be granted the next unscheduled game in 2022 or if they will then be entered into another bidding process. After 2021, the only current field scheduled to host the game is currently Citizens Bank Park in Philadelphia, which was awarded the 2026 game in celebration of the 250th anniversary of the birth of the nation.
Whether or not the plan for resumption of play contains discussion of the All-Star Game in 2020 or even the future assignment of the game is irrelevant to getting the players back on the field again. However, there needs to be some discussion of how this will be made up to the Dodgers in the future, and that discussion shouldn't include a waiting or application period. With four assignment slots open after 2021 until the next scheduled game, there should be no question.
The Dodgers should be awarded the 2022 All-Star Game.