Dodgers offer no update on May ticket refunds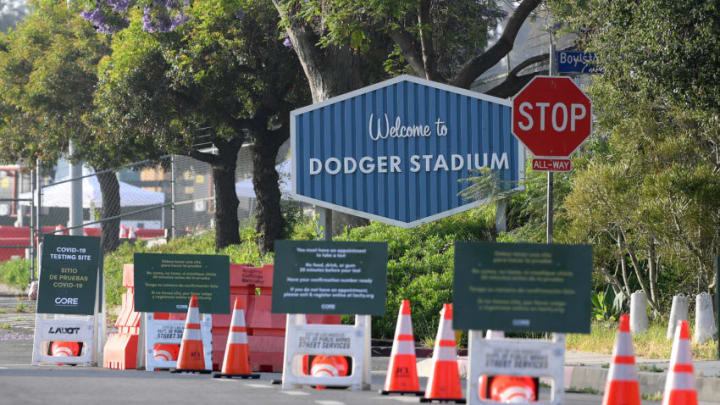 Dodger Stadium (Photo by Harry How/Getty Images) /
Will Dodgers fans be refunded for tickets purchased to games scheduled to be played in May?
---
It is June 3 and Los Angeles Dodgers fans who purchased tickets for games originally scheduled to be played at Dodger Stadium in May still have not heard official word on whether they will be issued refunds.
As other teams, such as the Mets, Yankees, and Red Sox have given fans the option to receive refunds or credits for all games that were scheduled to be played in May, the Dodgers have only given guidance for home games in March and April.
Dodgers provide no guidance on May refunds on team website.
The Dodgers have set up a webpage for fans to check on updates to the 2020 season, but the site only provides guidance for tickets purchased to March and April games. Doing a handy CTRL + F (find) search pulls no results on the word "May."
In answering the question about tickets purchased for games later than April, the site simply states, "We are continuing to work closely with Major League Baseball and our local health and government officials to monitor the ongoing situation. We will provide updates as information regarding our schedule becomes available."
As owners and players argue over the number of games to be played this season, fans are left footing the bill for major league clubs who are using the money they already collected for tickets to games that will never be played in front of fans to act as cash flow.
Sure, it is good to see the Dodgers are continuing to pay minor league players and avoid furloughs of their full-time employees, but as the most valuable franchise in the sport, it's hard to believe they really need the extra cash flow to make these short-term sacrifices.
Hopefully, fans will learn whether they can exchange their tickets in May or receive a refund shortly. For more information, please contact 866-DODGERS and select option 6 to see if a ticket representative offers more guidance than what is provided on the team website.