Dodgers baseball will officially return on July 1, probably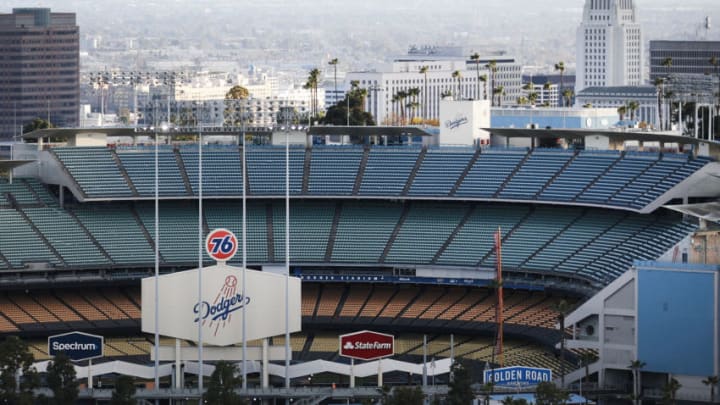 Dodger Stadium (Photo by Mario Tama/Getty Images) /
After a prolonged fight, it appears we are on the cusp of a 2020 baseball season.
---
How many obstacles will the 2020 Los Angeles Dodgers need to overcome in order to end their championship drought and win a World Series in 2020?
After missing months of the season due to the coronavirus pandemic and failed negotiations between MLB owners and players, commissioner Rob Manfred announced on Monday that he will schedule a 60-game season if the players agree to the safety and health protocols and can report to spring training by July 1, both which seem reasonable expectations given the recent dialogue revealed to the public.
It appears we will finally see Dodgers baseball soon enough.
After the players rejected the latest proposal by MLB to come to terms on a 60-game schedule that would have included expanded playoffs for the next two seasons, MLBPA released a statement showing a willingness to play based on an agreement reached with the owners back in March.
The March agreement, which seemed like a breeze compared to the rancor that surrounded recent negotiations, allows the commissioner to implement a season at full prorated pay. For a while, it appeared the owners would be unwilling to offer more than 50 games under such conditions, but after a longer period of negotiations, and perhaps the growing pressure from the public, Manfred decided to set a 60-game schedule.
According to the statement released by MLB, by failing to reach a compromise on the latest proposal put in front of the players, MLBPA turned down a universal DH for the next two years, $25 million in playoff pools in 2020, $33 million in forgiven salary advances that would increase the take home pay of 61% of MLB players, and overall earnings of 104% prorated salary.
The owners can paint the negotiations however they want, the two sides were as close as $250 million apart recently. It even appeared the framework for an agreement was in place when Manfred and MLBPA lead Tony Clark met face-to-face last week in Arizona. But there are several owners who rather see games canceled rather than give anything more to the players.
Major League Baseball has been shuttered since mid-March. While it appears the financial framework is in place for the season, uncertainty still hovers over the season as spring training sites were recently shutdown due to coronavirus spikes.
Hopefully, the players can return to the field in a safe and healthy manner and fans can see baseball again soon.