Dodgers: Family sues team claiming they were beaten by security for being Latinos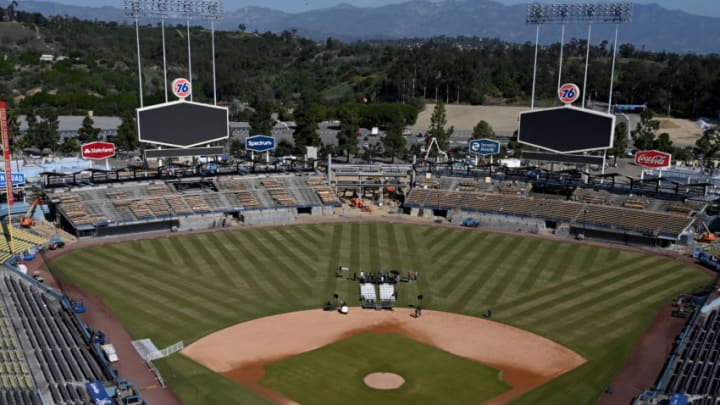 Dodger Stadium (Photo by Jayne Kamin-Oncea/Getty Images) /
A family is suing the Los Angeles Dodgers over an alleged incident from last October.
---
A family from Highland Park is suing the Los Angeles Dodgers, alleging they were beaten by Dodger Stadium security officers because they are Latinos, as first reported by ABC7.
The family claims seven of their relatives were assaulted for no reason while attending Game 5 of the National League Divisional Series between the Dodgers and Washington Nationals last October. A cellphone recording captured footage of the incident.
The Los Angeles Dodgers are being sued for damages.
Court documents have been filed in Los Angeles Superior Court, alleging negligence, assault, battery, false imprisonment and civil rights violations. The family is seeking $7 million in damages.
According to statements provided by the family, they were leaving the stadium when they were allegedly targeted by security guards and attacked while LAPD police officers, working off-duty but in uniform, stood by and did nothing to intervene.
The plaintiffs claim one of the brothers from the family was put in a choke hold, while another brother was held to the ground with a knee to his neck.
The Dodgers have not responded to the plaintiffs' claims.
This is not the first time Dodger Stadium has come under legal proceedings due to security issues. A Dodgers fan who was mugged in the stadium parking lot in 2019 recently sued the team for negligence, premises liability, assault, battery and emotional distress. A civil trial of a Giants fan who was brutally attacked in 2011 resulted in a judgment against the team three years later.
According to KTLA, the plaintiffs are still Dodgers fans despite the incident. However, they are seeking justice for what they are claiming was racially motivated, leading security guards to attack them and call them "gang bangers, thugs and homies."
This is a breaking story. Please check back as more information becomes available.