Dodgers News: Minor Leaguers paid through August, Landon Knack signs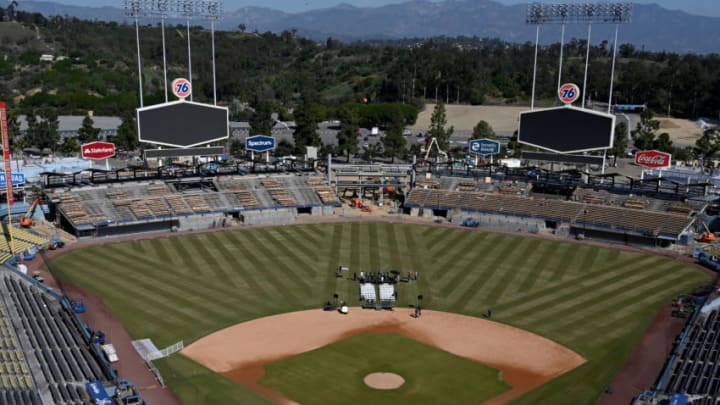 Dodger Stadium (Photo by Jayne Kamin-Oncea/Getty Images) /
Catching you up on a few Los Angeles Dodgers headlines.
---
The Los Angeles Dodgers have now signed four of their six picks from the 2020 MLB Draft. On Tuesday, they came to terms with second round selection Landon Knack.
The Dodgers continued their trend of signing players below their slot value in securing Knack for $715,000 (slot = $1.2 million). The right-hander from East Tennessee State was the 60th overall pick. And while his signing bonus was less than his pick's slot value, it was a record amount for a fifth-year senior.
The 22-year-old will reportedly be part of the Dodgers' 60-man player pool for the 2020 season, even though his name wasn't included on the initial list sent to the league over the weekend. Now that he is officially signed, expect to see him added to the group in the coming weeks.
In addition to Knack, the Dodgers have signed first round pick Bobby Miller (RHP), fourth round pick Carson Taylor (C), and fifth round pick Gavin Stone (RHP). The team has approximately $2.8 million remaining in their draft pool to sign Competitive Balance Round B pick Clayton Beeter (RHP) and third round high school prospect Jake Vogel (OF), whose slot values are worth a combined $1.6 million.
Dodgers will pay minor leaguers through August.
With the minor league season set to be cancelled, the Dodgers are apparently paying their minor league players through the end of August, per a tweet by Double-A prospect Ryan Moseley.
Minor Leaguers were receiving $400 weekly paychecks from Major League Baseball until the end of May, leaving it up to individual teams to decide if they would continue to make payments in the shadow of the coronavirus pandemic.
The Dodgers have not officially announced any plans on paying their minor leaguers through the end of August, but we will trust Moseley's word. Los Angeles is one of nine teams who haven't publicly committed to paying MiLB stipends past June 30.
Dodgers starter David Price made the generous donation to pay each minor leaguer in the team's system $1,000 for the month of June.
The Dodgers are set to report to camp on Wednesday for coronavirus testing before formal workouts begin on July 3. If the tentative schedule being floated by MLB doesn't change, Opening Day will be on July 23 at home against the Giants. It can't come soon enough!