Dodgers: Must see phantom balloon lands on field despite no fans in crowd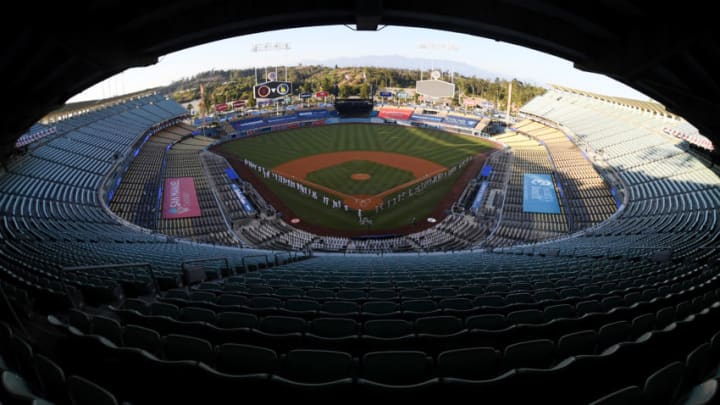 LOS ANGELES, CALIFORNIA - JULY 23: A general view before the Opening Day game between the San Francisco Giants and the Los Angeles Dodgers at Dodger Stadium on July 23, 2020 in Los Angeles, California. The 2020 season had been postponed since March due to the COVID-19 pandemic. (Photo by Harry How/Getty Images) /
There might be ghosts at Dodger Stadium.
---
As the Los Angeles Dodgers extended their lead over the San Francisco Giants on Thursday night, it felt like business as usual at Dodger Stadium, despite the stadium being completely devoid of fans.
Sure, there are those cardboard cutouts placed strategically throughout the stands. But they are cutouts. They aren't real people. And now you might be wondering why I am stating the obvious.
Well, in the 8th inning of the game, with the Dodgers up 6-1, a birthday balloon made its way onto the field, landing on the infield dirt near second base.
How did a birthday balloon end up in Dodger Stadium?
Now, last time I purchased a birthday balloon like the one shown above, it wasn't the type that could fly a far distance. So it's hard to imagine where this phantom balloon could have come from, which is why I return to the question of the cardboard cutouts.
Earlier in the night, one fan wondered on social media if the cutouts come alive when the lights are turned off in the stadium. Maybe they are living for all of us baseball fans stuck at home, even while the game is going on!
All joking aside, it was definitely the strangest scene of the night. But leave it to Dodgers organist Dieter Ruehle to be ready for it anyway, as he played 99 Luftballons while the ball boy collected the fallen balloon from the field.
I suppose it could have been a celebratory symbol as the Dodgers won 8-1 behind a huge night from Kiké Hernandez at the plate. The utility player starting at second base and went 4-5 with 5 RBIs, including a home run to completely break the game open in the 8th.
Dodgers starter Clayton Kershaw was scratched before the game due to back stiffness, so Dustin May started in his place. May scattered 7 hits over 4.1 innings of work, striking out four, walking none, and allowing only one earned run. He became the first rookie to start on Opening Day for the Dodgers since Fernando Valenzuela in 1981.