Dodgers: LA takes Game 1 but why did Clayton Kershaw get the hook early?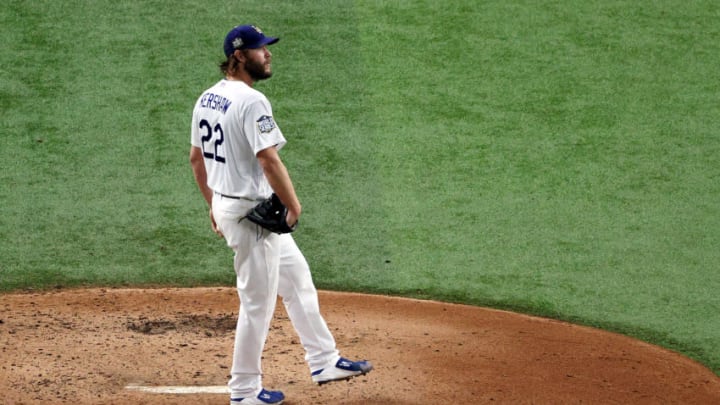 ARLINGTON, TEXAS - OCTOBER 20: Clayton Kershaw #22 of the Los Angeles Dodgers reacts after allowing a solo home run against the Tampa Bay Rays during the fifth inning in Game One of the 2020 MLB World Series at Globe Life Field on October 20, 2020 in Arlington, Texas. (Photo by Sean M. Haffey/Getty Images) /
Why did Dodgers manager Dave Roberts take out Clayton Kershaw after 78 pitches?
Though Los Angeles Dodgers fans are riding high after their Game 1 victory over the Tampa Bay Rays in the World Series, we cannot let this storyline fly under the radar simply because we're feeling good about this start.
Clayton Kershaw was rolling in this one. He was untouchable. A solo home run from Kevin Kiermaier was the only blemish on his evening. But then manager Dave Roberts removed the left-hander from the game after six near-pristine innings, eight strikeouts, and just 78 pitches.
What happened next? Dylan Floro could only get one out; the Rays scored two more runs; Roberts called on Victor Gonzalez after, like, six warmup pitches; and if not for a miraculous double play, we could be looking at a much different postgame recap.
The 8-3 win will do, but why did this have to happen?
Kershaw rediscovered his slider and was getting a ton of swings and misses. He could've used another inning or two as a confidence booster after his performance in NLCS Game 4, and the Dodgers could've certainly rested the bullpen as much as possible given you have to assume most of these matchups will be battles between the pitching staffs.
Was Kershaw's back acting up? Did Roberts want to avoid keeping him in longer since that's when the left-hander, historically, allows a lot of the damage? Are the Dodgers trying to preserve Kershaw's mental and physical state at the same time? What was the reason he couldn't keep pitching with an 8-1 lead and hardly any stress on his arm?
Perhaps we could point to the Dodgers' four-run inning in the fifth that kept Kershaw on the bench for a half hour. Then came a two-run sixth that perhaps lasted a little longer than Roberts would have preferred. That at least gives us something to reference when we're trying to make sense of this.
Because this explanation certainly doesn't help.
In a game where your starter is cruising and could use some more innings/confidence to put the postseason demons behind him while working with a seven-run lead, it's probably best to continue letting him cook. It's not like he would've gotten into trouble that could've affected the outcome of the game.
But here we are. After Kershaw out-dueled Tyler Glasnow, who was taken out after 4.1 innings of work, in a pitching matchup that didn't even end up being close, the Dodgers used five pitchers to the Rays' four. It feels totally unnecessary, and it'd be great to have answers, but at the very least, Kershaw will be fresh as can be for Game 5 if we make it that far.