Does Clayton Kershaw need a new contract extension this offseason?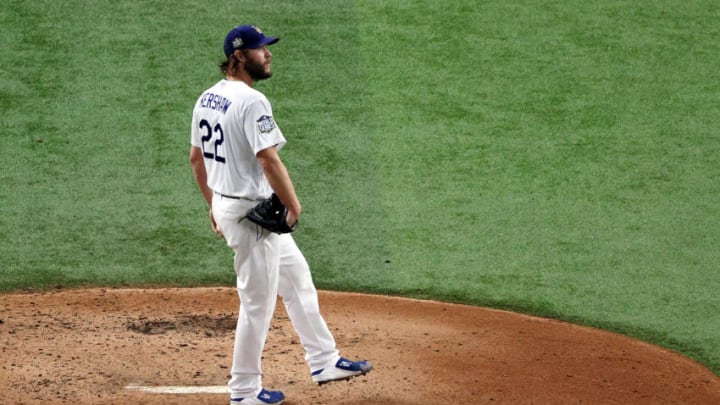 ARLINGTON, TEXAS - OCTOBER 20: Clayton Kershaw #22 of the Los Angeles Dodgers reacts after allowing a solo home run against the Tampa Bay Rays during the fifth inning in Game One of the 2020 MLB World Series at Globe Life Field on October 20, 2020 in Arlington, Texas. (Photo by Sean M. Haffey/Getty Images) /
Clayton Kershaw proved he deserved another extension from the Dodgers.
Well, that was fast. Clayton Kershaw is entering yet another contract year in 2021 after signing his three-year, $93 million deal with the Los Angeles Dodgers shortly after the 2018 season. He's slated to make $31 million when the new season begins in April, but is it bad business for the front office to let him play out his contract?
Kershaw was an integral part of the team's first World Series run in 32 years and is still easily one of the best pitchers in the game despite entering his age-33 season. Yes, it is concerning he's been slowed by injuries, mainly back issues, since 2016 (he hasn't made more than 29 starts in a single season since then), but he's a Dodger for life. That's the end of the story.
Given LA has a lot of money coming off the books this year and even after 2021 (Kenley Jansen and Chris Taylor will be almost $28 million), it'd perhaps be in the front office's best interest to work out a reasonable extension with Kershaw to avoid any media hoopla during their title defense.
https://twitter.com/espn/status/1321324837709750273?s=20
Kershaw's earned it. Everyone tries to make it sound like it's easy to win a title when you've had nearly 1.5 decades to do it, but so many players end their careers without one. Kershaw's been through the gauntlet, and though his overall body of work in the postseason suggests he's not made for the big stage, all he needed was one World Series victory to end that discussion.
And it's hard to even pin all the blame on him. Let's not forget the offense has failed to support him in big games for much of his career. And, please, show us a pitcher, especially in the modern era, who's been completely untouchable in October. Madison Bumgarner (sadly) might be the only one.
And consider this: how many pitchers would you rather have than Kershaw? Among the top-15 highest-paid pitchers in baseball, you'd probably only (at this point) rather Gerrit Cole and Jacob deGrom given their age and the fact they're in their primes.
Kershaw still has a number of years left in the tank, and the Dodgers will just have to deal with his lingering back issues. If he's able to make 25 starts per year, it'll be well worth the money, and given he's only made fewer than 26 starts in a single campaign just three times, with one of those being 2020 and the other being his rookie season, it's safe to assume that's the least you'll be getting from him.
So why not lock him up to a four-year, $88 million extension and call it a day? He'll still be among the highest-paid in the league, he'll get some longer-term security, and the Dodgers won't be weighed down by another $30+ million salary moving forward.
The pandemic shouldn't matter. Clayton Kershaw is recession-proof. And keeping him around to mentor Walker Buehler, Julio Urias and Dustin May will be just as valuable as his everyday output.