Dodgers: Latest Tommy Lasorda update proves he's still fighting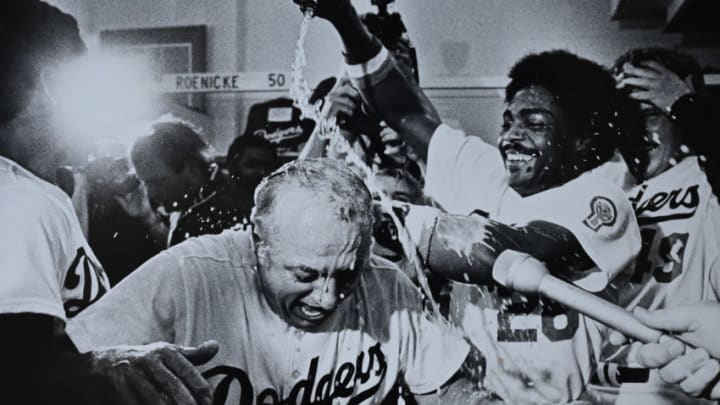 LOS ANGELES, CA - OCTOBER 1981: Pedro Guerrero #28 pours champagne on Manager Tommy Lasorda #2 of the Los Angeles Dodgers after defeating the Houston Astros in the divisional playoffs at Dodger Stadium, Los Angeles, California. (Photo by Jayne Kamin-Oncea/Getty Images) /
The first post-holiday Tommy Lasorda update isn't positive, Dodgers fans.
Dodgers fans who've heard only sporadic updates about their Hall of Fame manager Tommy Lasorda over the past few months likely had their fingers crossed, hoping that silence meant positivity.
Unfortunately, things did not go according to the earlier laid-out plan.
Lasorda was hospitalized and placed in intensive care in mid-November, but progressed to the point of being transferred out of the unit a few days later, with the intention of a release coming around Christmas.
Unfortunately, we have now arrived at the new year, and Lasorda still has not been cleared to leave the hospital.
The iconic Lasorda stalked the Dodgers' dugout in full uniform for two decades, taking home World Series wins in 1981 and 1988 over the Yankees and Oakland A's. One of the game's iconic characters — and idealized fighters from the managerial position — the 93-year-old famously bled Dodger blue through his entire tenure and beyond.
These past two decades since Lasorda's retirement from field general status have been all about cementing him as an icon — 2020, a championship season in its own right, was his 71st as a member of the Dodgers organization, an all-time record.
Lasorda is also the oldest living Hall of Famer, in a year pockmarked by the loss of so many of them (seven).
https://twitter.com/MLBVault/status/1344331162894782464
The plan is, of course, to still get Lasorda home as soon as possible, and though he wasn't quite ready to make it back home for the holidays, the fight is still quite present in this old bulldog.
We weren't able to cap a title-winning season with a celebration around Lasorda's release, but then again, did anything go according to plan last year? We didn't exactly yearn to be down 3-1 in the NLCS to the Braves, either.
Much like the '20 Dodgers, we expect plenty more fight here.