Dodgers: 10 greatest Tommy Lasorda moments of all time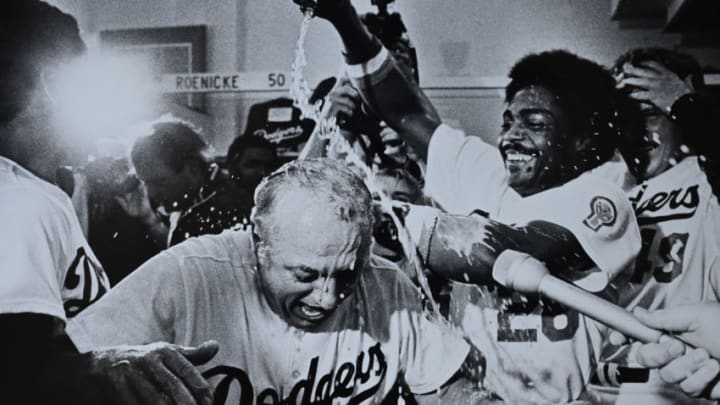 LOS ANGELES, CA - OCTOBER 1981: Pedro Guerrero #28 pours champagne on Manager Tommy Lasorda #2 of the Los Angeles Dodgers after defeating the Houston Astros in the divisional playoffs at Dodger Stadium, Los Angeles, California. (Photo by Jayne Kamin-Oncea/Getty Images) /
Former Los Angeles Dodgers manager Tommy Lasorda (C front) shares a laugh with the National League bench after Lasorda was hit with a bat while coaching third base during the baseball All-Star game 10 July, 2001 at Safeco Field in Seattle, Washington. AFP PHOTO/John MABANGLO (Photo by JOHN G. MABANGLO / AFP) (Photo by JOHN G. MABANGLO/AFP via Getty Images) /
9. Lasorda's Tumble at the 2001 All-Star Game
Yes, we had to do it. We're not particularly happy about it, either. But it's what the people want.
Since Lasorda laughed it off (phew), we can, too.
At the time, the 73-year-old Dodgers legend was being honored as the National League's third base coach in a game that was sure to be remembered for many years as the final showcase for future Hall of Famers Cal Ripken Jr. and Tony Gwynn.
Yet somehow the enduring image from the game is an upended Lasorda, thrown to the ground in the heat of the moment by an errant Vladimir Guerrero bat.
As harrowing now as it was then.
Luckily, Lasorda could dish it out as well as he could take it, and the National League dugout had several innings' worth of fun left with the legend after it was clear he'd escaped without any bodily harm.