Dodgers: 10 greatest Tommy Lasorda moments of all time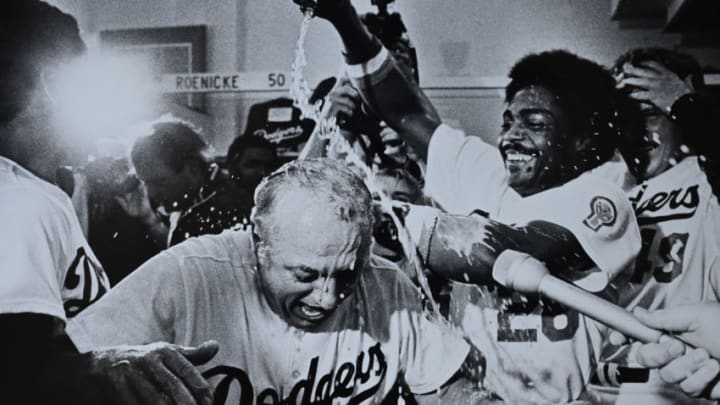 LOS ANGELES, CA - OCTOBER 1981: Pedro Guerrero #28 pours champagne on Manager Tommy Lasorda #2 of the Los Angeles Dodgers after defeating the Houston Astros in the divisional playoffs at Dodger Stadium, Los Angeles, California. (Photo by Jayne Kamin-Oncea/Getty Images) /
LOS ANGELES, CA – OCTOBER 25, 1981: Manager Tommy Lasorda #2 of the Los Angeles Dodgers walks off the field after defeating the New York Yankees in game 5 of the 1981 World Series at Dodger Stadium, Los Angeles, California. (Photo by Jayne Kamin-Oncea/Getty Images) /
6. Lasorda vs. Reggie Jackson's Hip Check, 1978
Game 4 of the 1978 World Series turned in the Yankees' favor, as things so often did in those days, based on a brutally bad umpiring decision in the home team's direction.
While Tommy Lasorda couldn't reverse the call simply by being blustery, he did rant and rave and make his feelings well known, creating an all-time moment.
An errant throw, supposedly, by the Dodgers allowed the Yankees to score a key run. In actuality, though, Yanks slugger Reggie Jackson impeded the play by sticking his hip into play, deflecting the ball before playing dumb.
If you know Lasorda, you know he did not take this well.
All these years later, we have empirical evidence that our manager was on the right side of history.