Dodgers: 10 greatest Tommy Lasorda moments of all time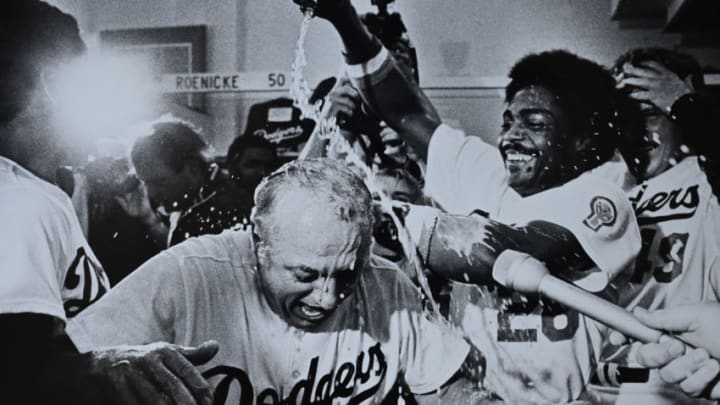 LOS ANGELES, CA - OCTOBER 1981: Pedro Guerrero #28 pours champagne on Manager Tommy Lasorda #2 of the Los Angeles Dodgers after defeating the Houston Astros in the divisional playoffs at Dodger Stadium, Los Angeles, California. (Photo by Jayne Kamin-Oncea/Getty Images) /
CENTURY CITY, CA – 1980: Los Angeles Dodgers Hall of Fame coach, Tommy Lasorda (center), argues with a National League umpire during a 1980 Los Angeles, California, baseball game. (Photo by George Rose/Getty Images) /
3. Lasorda's Ability to Curse a Blue Streak
There is nothing like the elocution of an elderly man just absolutely letting the curse words rip in an impressive monologue.
How does Lasorda have enough breath to get these all out consecutively, you wonder? How does such a gregarious individual have such a quick trigger? Well, we've all been there. We've all wanted to scream like Tommy does. And we don't all have the license to do so. We're not major league managers.
Lasorda's expletive-filled mound visit to the especially terrible Doug Rau during the 1977 World Series may take the cake here, but it's too overwhelming to embed directly in this article (listen here — we won't judge).
His postgame rant to the assembled media after watching his pitching staff surrender three homers in one game to the Cubs' all-or-nothing slugger Dave Kingman certainly gives the moment a run for its money, though.
The beep isn't quite as aesthetically pleasing as the word itself, but it's enjoyable nonetheless.