Dodgers: 10 greatest Tommy Lasorda moments of all time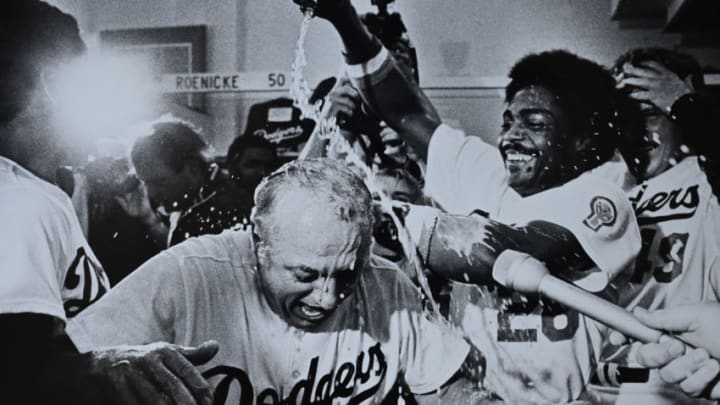 LOS ANGELES, CA - OCTOBER 1981: Pedro Guerrero #28 pours champagne on Manager Tommy Lasorda #2 of the Los Angeles Dodgers after defeating the Houston Astros in the divisional playoffs at Dodger Stadium, Los Angeles, California. (Photo by Jayne Kamin-Oncea/Getty Images) /
Phil Niekro (L) and Tom Lasorda hold their awards after being inducted into the Nation Baseball Hall of Fame 03 August in Cooperstown, NY. Niekro was inducted for his knuckleball and Lasorda for his longtime career with the L.A. Dodgers as the team's manager. (Electronic Image) AFP PHOTO Don EMMERT (Photo by Don EMMERT / AFP) (Photo credit should read DON EMMERT/AFP via Getty Images) /
2. Tommy Lasorda Makes the Baseball Hall of Fame, 1997
Just one year after his retirement in 1996, Lasorda ascended to a well-earned place among the game's elite in Cooperstown in 1997.
No need for a five-year waiting period. The Hall decided they needed Lasorda in the fraternity right away.
That Class of '97 included fellow recently deceased icon Phil Niekro, as well as White Sox star Nellie Fox and Negro League standout Willie Wells. Lasorda woke the weekend up with his speech, which encapsulates exactly why he's been so beloved for so long.
And yes, he was nervous, which we can't imagine happened very often in the 52 years between his departure for the minor leagues and this high honor.
Job well done, Tommy.