Los Angeles Dodgers: Opening Day by the numbers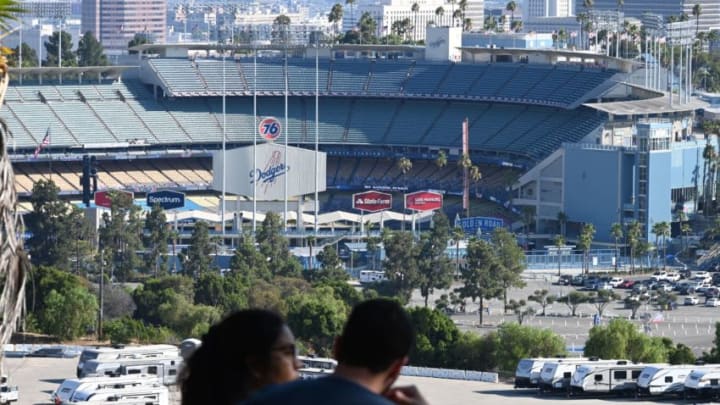 A couple looks out over the Los Angeles city skyline and Dodgers Stadium ahead of the opening day game between the Los Angeles Dodgers and the San Francisco Giants, July 23, 2020 in Los Angeles, California. - The game will be played without fans in the stadium due to the COVID-19 pandemic. (Photo by Robyn Beck / AFP) (Photo by ROBYN BECK/AFP via Getty Images) /
That glorious day for any baseball fan is finally upon us as the Los Angeles Dodgers are set to begin their 2021 season on Opening Day in Denver against the Colorado Rockies. This is different than most, however, since the Dodgers are the defending World Series champions for the first time since 1989.
The start of a fresh season means fans will get to see new faces like reigning NL CY Young award winner Trevor Bauer and watch guys like Gavin Lux hopefully carve out a future role with the team.
The Dodgers are once again favored to win the World Series, and despite the San Diego Padres emerging as one of the best teams in Major League Baseball, fans can expect LA to capture the NL West division once again.
Before the games begin let's explore the Dodgers Opening Day history by the numbers.
9
Barring some unexpected change, this will be the ninth time Clayton Kershaw will toe the rubber on Opening Day for the Dodgers. Kershaw will be extending his team record to nine having surpassed both Don Sutton and Don Drysdale two years ago in 2018.
Kershaw is 5-1 with two no-decisions in his eight Opening Day starts, with his most memorable coming back in 2013. That day, he pitched a four-hit shutout against the Giants and started the scoring off himself by homering for the first time in his career, duplicating a feat not accomplished since Bob Lemon in 1953.
Kershaw would likely have become the first Dodgers pitcher to have started double-digit Opening Days, but he missed the last two due to injury. This leaves Kershaw quite a few games off of the MLB record 14 Opening Day starts by Steve Carlton and Walter Johnson.
8
On Opening Day in 2019, the Dodgers crushed eight home runs to tie the franchise record set in 2002. Facing the Arizona Diamondbacks, LA got two home runs apiece from Enrique Hernandez and Joc Pederson. Austin Barnes, Corey Seager, Max Muncy, and Cody Bellinger added to the total (each with a solo shot) in a 12-5 win.
Four of the home runs were off Diamondbacks starter Zack Greinke, who spent three seasons with the Dodgers. The Opening Day barrage was a sign of things to come as Los Angeles set an NL record with 279 home runs in 2019.
With this year's Opening Day being played in the thin mile high air of Denver, don't be surprised if they go off again.
4-1 
Since moving to Los Angeles, the Dodgers are 4-1 on opening day when they are the defending World Series champion. This year's opening day is 32 years in the making, the Dodgers' only loss was back in 1989 when they opened their season on the road against the Cincinnati Reds.
That year they started strong, opening the scoring with two runs on three Reds errors, but starter Tim Belcher fell apart, allowing six runs in just 2.1 innings in the Dodgers' 6-4 loss.
Hopefully, this year's road opener isn't a repeat of 1989.
21,000
Unlike last year when the Dodgers opened up in front of cardboard cutouts, this year there will be fans in the stands when teams take the field. The Rockies can have up to 21,000 fans in Coors Field, a limited capacity number but nonetheless a reminder that baseball is returning to normalcy.
This week, fans were greeted with the news that when the Dodgers finally return home, Dodger Stadium will host 18,000 fans (33% capacity), but that won't be until April 9, assuming the Nationals' COVID outbreak is under control by then.
But for now, we'll enjoy watching the World Series champs on TV. First pitch on Thursday is slated for 1:05 p.m. PST. Let's go Dodgers!