Dodgers change fan experience with 'vaccinated' section for Padres series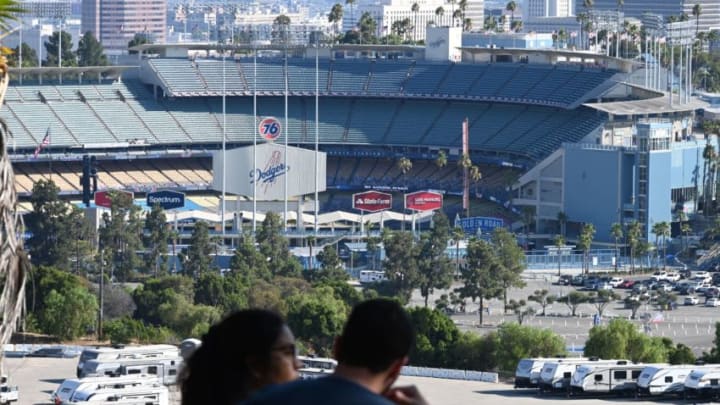 A couple looks out over the Los Angeles city skyline and Dodgers Stadium ahead of the opening day game between the Los Angeles Dodgers and the San Francisco Giants, July 23, 2020 in Los Angeles, California. - The game will be played without fans in the stadium due to the COVID-19 pandemic. (Photo by Robyn Beck / AFP) (Photo by ROBYN BECK/AFP via Getty Images) /
While 2020 featured a devastating and whiplash-quick pivot away from normalcy, followed by a bizarre summer that felt like a middle ground, leading finally into a dreadful and catastrophic winter, there has been hope at nearly every turn in 2021. The timing of such hope has been largely perfect for the Los Angeles Dodgers.
A first-place team on a record-setting pace thus far, the Dodgers revealed this week that they plan to introduce something that should greatly improve the fan experience during the upcoming four-game set against the San Diego Padres.
Because they can now.
And it's time to take advantage of all that we can now do that we couldn't dream of as recently as February.
On Saturday against their hottest new rival, the Dodgers plan to unveil a "fully vaccinated fan section," which will hopefully induce some louder and more tightly-packed cheering.
The mask requirement still persists in the new section (and likely will throughout the MLB season, let's be honest), but all distancing regulations will be relaxed within its borders. You'll now be able to sit next to your fellow fan once again.
The Los Angeles Dodgers are introducing a "Fully Vaccinated Fan Section" vs the San Diego Padres.
In a surprising turn based on the way the rest of the pandemic has gone in our fair state, the Dodgers are poised to become the third California team to announce such a relaxing of their regulations, following in the footsteps of the Giants and Padres.
The seats, which appear to range between $120-150 (presuming you snap them up before this article and all others like it go viral), are situated in the loge level by the bullpen.
Once inside, you'll also get the chance to scope out a number of amenities the Dodgers have introduced in an effort to make this season the most welcome return to Dodger Stadium possible, one that will hopefully set the tone for another decade of growth.
So, go out there and scream, Dodgers fans! You no longer have to do so within the confines of your home, or six feet away from the second-loudest voice in the section.
Take full advantage.