Dodgers: Wild brawl breaks out in stands during Angels-LAD Friday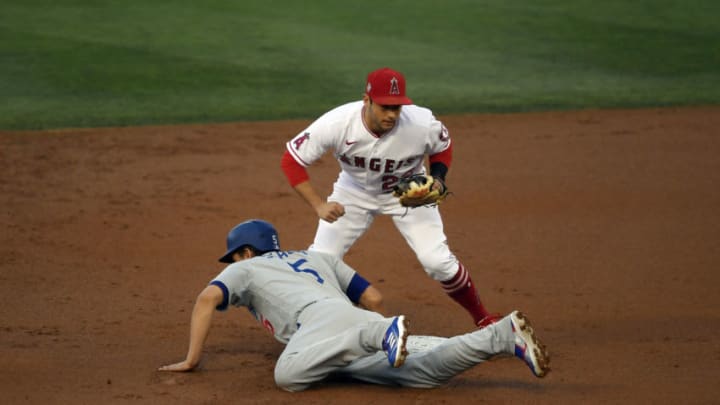 ANAHEIM, CA - MAY 07: David Fletcher #22 of the Los Angeles Angels picks off Corey Seager #5 of the Los Angeles Dodgers at second base during the first inning at Angel Stadium of Anaheim on May 7, 2021 in Anaheim, California. (Photo by Kevork Djansezian/Getty Images) /
The Los Angeles Dodgers needed a solid victory Friday night in Anaheim to stem their negative momentum, especially against the in-state team that may or may not be their real rival.
Apparently, shedding Albert Pujols from the roster changed everything for the Angels, who gave up a run early but rebounded quickly against Julio Urias before running and hiding as the game stretched on.
In a word, it was ugly.
In two words, it was ugly ugly.
The one-hour trip back to Hollywood isn't going to be very pleasant for one Dodgers fan, though — but if he's lucky, maybe they'll zip him through the carpool lane.
Unfortunately, tensions boiling over like this is exactly what you can expect to happen when a preseason potential record-setter in the wins department is floundering somewhere near .500.
Ladies and gents…we have a fan brawl.
Dodgers and Angels fans brawled in the stadium in Anaheim on Friday night.
Yes, that's a Dodgers fan going to town on an Angels fan in a Mike Trout jersey. Things…things very much boiled over here.
We understand, folks. This was supposed to be a special season without any stumbling blocks. This was certainly supposed to be a season in which, say, the Dodgers pitching staff never gave up nine runs to the Angels in Joe Kelly's triumphant return, falling to 17-16 in the process. It wasn't supposed to look anything like this mess.
That being said…why would any Dodgers fan enjoy this brawl? Why would the dude in the No. 11 jersey record the whole thing? Just had to save rock bottom for posterity, huh?
Yes, Dodgers fans who came to support their team Friday night were just as sloppy as the people on the field they were attempting to represent.
Noted.
Where do we go from here? Shrug off yet another game, embarrassing in an entirely different way than the previous several losses, and attempt to regroup with Clayton Kershaw against Dylan Bundy Saturday.
Please. Stop leaving us with images like these.